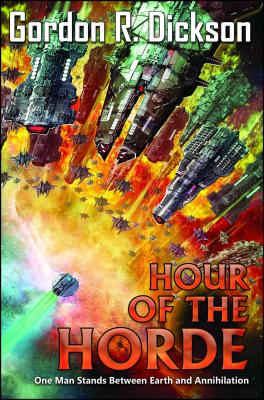 Hour of the Horde
Paperback

* Individual store prices may vary.
Description
One man stands between Earth and a ravening alien horde. Classic military sf in the mode of Starship Troopers and Ender's Game from a master of the genre.

CLASSIC MILITARY SF IN THE MODE OF STARSHIP TROOPERS AND ENDER'S GAME FROM A MASTER OF THE GENRE

The ravenous aliens known as the Horde make their way across the Universe like locusts, stripping bare entire galaxies and leaving death and destruction in their wake. Now, they stand on the edge of the Milky Way.

It seems all is lost, but the denizens of our galaxy are not content to give up without a fight. To that end, a galaxy-wide defense force has been assembled, with each star system contributing their greatest warrior to the battle.

Enter Miles Vander, the best a tiny backwater like Earth has to offer. Vander may be the key to destroying the Horde. But first he'll have to prove his worthiness to his alien compatriots.

A classic of military science fiction from Hugo and Nebula Award– winning author Gordon R. Dickson.

Praise for Time Storm by Gordon R. Dickson:

"Dickson has done a superb job."—Publishers Weekly

"Dickson at his best. . . . One of the notable science fiction novels of the year."—Booklist

"One of those rare books that holds your attention constantly. The suspense at some points is almost unbearable, leaving the reader breathless and glad the crisis has passed."—New Orleans Times-Picayune

"Science fiction that seduces. . . . A masterful science fiction story told by a masterful science fiction writer."—Milwaukee Journal

About Gordon R. Dickson:

"Dickson is one of SF's standard-bearers."—Publishers Weekly

"Dickson has a true mastery of pacing and fine understanding of human beings."—Seattle Post Intelligencer

"A masterful science fiction writer."—Milwaukee Journal

"Dickson is among the best storytellers we have ever has...one of the finest makers that our field has ever known."—Poul Anderson
Baen, 9781481484176, 176pp.
Publication Date: August 6, 2019
About the Author
Gordon R. Dickson (1923-2001) was one of the most prolific and popular science fiction writers of the 20th Century, frequently nominated for the Hugo and Nebula Awards and winning three Hugos and one Nebula. He also received the Jupiter, August Derleth, and Skylark Awards, and was inducted into the Science Fiction Hall of Fame. He published nearly fifty solo novels, as well as several collaborations with such SF masters as Poul Anderson, Ben Bova, Keith Laumer, and Harry Harrison, and over one hundred and fifty short stories, novelettes, and novellas. His most popular works were the novels and shorter pieces in the Childe cycle (which included the Dorsai stories). Also very popular was his Dragon series of fantasy novels, which began with the award-winning The Dragon and the George, and continued for a total of nine novels, and the humorous Hoka stories, co-authored with Poul Anderson, available from Baen Books.
or
Not Currently Available for Direct Purchase