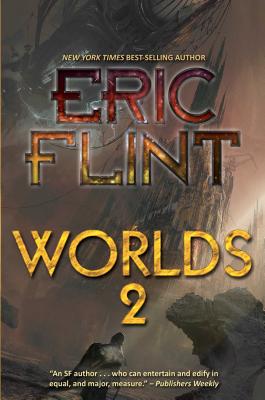 Worlds 2
Mass Market

* Individual store prices may vary.
Other Editions of This Title:
Paperback (8/7/2018)
Description
From New York Times best-selling author and creator of the popular Ring of Fire series Eric Flint. A new collection of short stories by a master of science fiction, fantasy, and alternate history.

WELCOME TO THE MANY WORLDS OF BEST-SELLING AUTHOR ERIC FLINT

Known for his New York Times best-selling alternate history novels, Eric Flint is equally a master of shorter forms, and this second large volume of his short fiction shows off his huge range of storytelling mastery.

This volume features stories and a short novel taking place in Flint's own celebrated Ring of Fire series, as well as stories set in Poul Anderson's Operation Chaos universe, a story (with Dave Freer) in the Rats, Bats, and Vats series, and a group of humorous stories addressing Biblical literalism. Also included: a novella in a Martian steampunk setting and a novella in the best-selling Honor Harrington series!

Prepare to be entertained, enlightened, and amazed by the many worlds and works of Eric Flint!

About Eric Flint:

"Another engaging alternate history from a master of the genre."—Booklist

". . . an old-style police-procedural mystery, set in 17th century Germany. . . . the threads . . . spin together . . . to weave an addictively entertaining story. . . . a strong addition to a fun series."—Daily News of Galveston County

"This alternate history series is … a landmark…"—Booklist

"[Eric] Flint's 1632 universe seems to be inspiring a whole new crop of gifted alternate historians."—Booklist

"…reads like a technothriller set in the age of the Medicis…"—Publishers Weekly
Baen, 9781481484206, 784pp.
Publication Date: July 30, 2019
About the Author
Eric Flint is a modern master of alternate history fiction, with three million books in print. He's the author/creator of the multiple New York Times best-selling Ring of Fire series starting with first novel 1632. With David Drake he has written six popular novels in the "Belisarius" alternate Roman history series, and with David Weber collaborated on 1633 and 1634: The Baltic War and two novels in Webers Honorverse series. Flint was for many years a labor union activist. He lives near Chicago, Illinois.