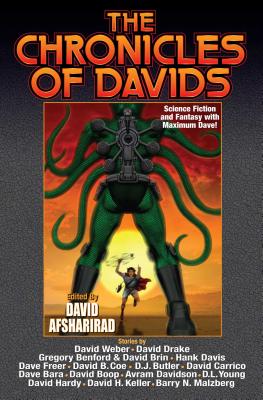 The Chronicles of Davids (Paperback)
Baen, 9781481484268, 304pp.
Publication Date: September 3, 2019
* Individual store prices may vary.
Description
STORIES FROM THE FIRST NAME IN SCIENCE FICTION AND FANTASY! Fifteen stories spanning the SF/F genres—all by a "David." Includes stories by David Drake, David Weber, Gregory Benford & David Brin, D.J. Butler—and more!

Science Fiction and Fantasy with Maximum Dave

The history of science fiction and fantasy is littered with stories by Davids of distinction. Now, for the first time, an anthology by people named David, for everyone.

Read along as editor David Afsharirad guides you through the strange, wonderous imaginations of the great Davids of the field, past and present. Fifteen tales by David Weber, David Drake, Gregory Benford & David Brin, David B. Coe, D.J. Butler, Avram Davidson, David H. Keller, and many more.

Herein you will find: a Depression-era magic man who comes face-to-face with an ancient evil. A once-promising filmmaker whose fate depends on a movie-producing AI. A shape-shifting detective on the trail of a pack of werewolves. A sentient tank who must confront one of its own. And a diner regular who gets more than he bargained for when he orders the soup du jour.

Featuring David-inspired cover art by celebrated artist David Mattingly, The Chronicles of Davids delivers maximum Dave!

Remember: with a name like "David," it has to be good!


Contributors:
David Weber
David Drake
D.J. Butler
Gregory Benford & David Brin
David B. Coe
Barry N. Malzberg
Dave Freer
Avram Davidson
D.L. Young
David Boop
Hank Davis
Dave Bara
David H. Keller
David Carrico
David Hardy

About The Chronicles of Davids:

"Afsharirad brings together some of the genre's most beloved authors with David as their first name in a collection that covers time travel…space opera…AI trouble.. and military sf…a fun collection of imaginative Davids."—Booklist

About The Year's Best Military and Adventure Science Fiction series, edited by David Afsharirad:

"Baen's fan-guided anthology series roars into its second year with a collection of stories just as eclectic as the first. . . . Afsharirad has put together a refreshing military and SF anthology that will be enjoyed by a wide range of readers."—Publishers Weekly (starred review)

"This intriguing anthology explores the human race's violent potential [but] also bends toward exploration and the triumph of the human spirit, with brave tales [that] take the reader on a fascinating, thought-provoking, enjoyable journey . . . "—Publishers Weekly (starred review)

"[A] nice eclectic mix of magazines—hardcopy and digital—and original anthologies. Afsharirad seems to have cast his nets admirably wide. . . . The variety of styles and topics and themes, and the high level of craft in this assemblage, prove that this subgenre is flourishing. . . . [The collection] should be welcome by raw recruits and veterans alike."—Locus
About the Author
David Afsharirad is the editor of the Year's Best Military and Adventure SF series. his short stories have appeared in various magazines and anthologies. He lives in Austin, TX with his wife and sons.