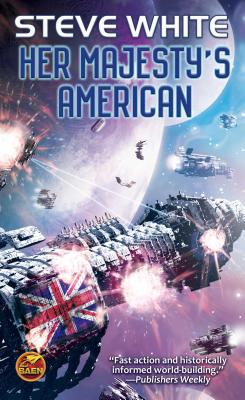 Her Majesty's American (Mass Market)
Baen, 9781481484299, 240pp.
Publication Date: August 27, 2019
Other Editions of This Title:
Paperback (9/4/2018)
MP3 CD (12/18/2018)
* Individual store prices may vary.
Description
THE UNION JACK TAKES TO SPACE! All-new alternate history science fiction from New York Times best-selling author Steve White.

In an alternate future where the British Empire never crumbled, the space ships of Her Majesty's Navy work to keep the spaceways safe. But there are those among the stars who are not so happy being subjects of the British Empire. In the Tau Ceti system, a terrorist faction of the rebellious Sons of Arnold attacks the empire from within, and warships of the theocratic Caliphate enter the system, prepared to do their worst to destroy the hated empire head on. Yet standing against the coming anarchy and tyranny is one intrepid spy prepared to risk all for queen and empire!

About Her Majesty's American:
"White presents thought provoking observations about humanity in an alternate future, with clever twists and turns."—Booklist

"With a strong combination of alternate history, science fact, and science fiction, White (the Starfire series) takes readers into a future of interplanetary colonization and threats both foreign and domestic."—Publishers Weekly

About Steve White:
"Creative . . . White seamlessly inserts his characters into history, blending science fiction and vintage military action to deliver a fast-paced, high-stakes story. The time travel leads to a twisty, clever series of surprises and plot mechanics."—Publishers Weekly on Soldiers out of Time

"White offers fast action and historically informed world-building."—Publishers Weekly

". . . recalls the best of the John Campbell era of SF. White's core audience of hard SF fans will be pleased . . ."—Publishers Weekly

". . . Engaging entertainment . . . much suspense and many well-handled action scenes . . ."—Booklist
About the Author
Vietnam veteran Steve White is the author of numerous science fiction and fantasy novels including Wolf Among the Stars, St. Anthony's Fire, and Blood of Heroes. With David Weber, White collaborated on Starfire series novels includingand New York Times bestseller The Shiva Option. He's continued the Starfire series with coauthor Charles E. Gannon and others, including latest entry Oblivion. He's also the creator of a series of great time travel adventures featuring tough guy and intrepid agent, Jason Thanou. That series' latest entry is Gods of Dawn.