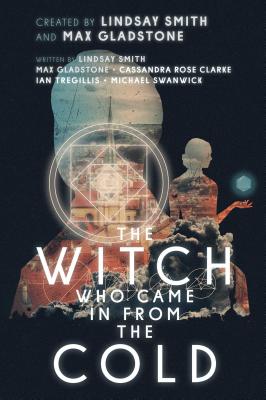 The Witch Who Came in from the Cold
Paperback

* Individual store prices may vary.
Other Editions of This Title:
Hardcover (6/13/2017)
Description
Spies and sorcerers face off during the Cold War, with the fate of the world in balance in this print edition of a hugely popular serial novel from five award-winning and critically acclaimed authors.

The Cold War rages in back rooms and dark alleys of 1970s Prague as spies and sorcerers battle for home and country. The fate of the East and the West hangs in the balance right along the Iron Curtain—and crackling beneath the surface is a vein of magic that is waiting to be tapped.

This novel was previously published serially at SerialBox.com/Serials/ColdWitch.
Praise For The Witch Who Came in from the Cold…
"Those who like to mix magic, spycraft, and secret history should enjoy this – it may please fans of Stross's Laundry series."
— Locus Magazine

"Full of fast-paced, high-intensity action paired with magic at a level that has not been seen until now, with a cliff-hanger that lets readers know that the game is not over and has only just begun."
— The San Francisco Book Review

"The Witch Who Came in from the Cold is a chilly evocation of a different kind of Cold War."
— Charles Stross, author of the Laundry Files series

"Take a double shot of Le Carré, a dash of Deighton, a twist of Quiller, a splash of Al Stewart's "The Year of the Cat," throw in a jigger full of elemental magic, mix well … and voilà! The Witch Who Came In From The Cold."
— Victor Milán, author of The Dinosaur Lords

"The occult love child of John le Carre and The Sandbaggers."
— Marie Brennan, author of A Natural History of Dragons

"The diabolical secret weapon of serialized storytelling is that each bit just whets your appetite for more. When can I have the next one?"
— Marie Brennan, author of A Natural History of Dragons

Location: Prague. Time: 1970. Two things this city was lousy with: spies and witches.

"As soon as I saw that, I was instantly hooked, and the pilot jacked the intrigue to the max. Two female Soviet spy witches, an American spy with something weird drilling magical holes in his head, and a world of secrets within secrets in a locale where old-world myth and the Cold War face off, pedal to the metal . . . it's awesome. Or as we said in 1970, Far out. "
— Sherwood Smith, author of Crown Duel

* "The installments are easy to read one at a time, but the tangles of alliances, secrets, and shocking double-crosses will have readers up all night mumbling, "Just one more."
— Publishers Weekly, STARRED REVIEW
Gallery / Saga Press, 9781481485609, 624pp.
Publication Date: June 13, 2017
About the Author
Lindsay Smith is the author of the YA espionage thrillers Sekret, Skandal, and Dreamstrider, all from Macmillan Children's. She lives in Washington, DC with her husband and dog, where she writes on international issues in cyber security.

Max Gladstone is the author of the Hugo-nominated Craft Sequence, which Patrick Rothfuss called "stupefyingly good." The sixth book, Ruin of Angels, was released September 2017. Max's interactive mobile game Choice of the Deathless was nominated for the XYZZY Award, and his critically acclaimed short fiction has appeared on Tor and in Uncanny Magazine, and in anthologies such as XO Orpheus: Fifty New Myths and The Starlit Wood: New Fairy Tales. John Crowley described Max as "a true star of 21st-century fantasy." Max has sung in Carnegie Hall and was once thrown from a horse in Mongolia.

Cassandra Rose Clarke is the author of Our Lady of the Ice, Magic of Blood and Sea, Magic of Wind and Mist, Star's End, Halo: Battle Born, and Halo: Meridian Divide. She grew up in south Texas and currently lives in a suburb of Houston, where she writes and teaches composition at a local college. Cassandra's first adult novel, The Mad Scientist's Daughter, was a finalist for the 2013 Philip K. Dick Award, and her YA novel, The Assassin's Curse, was nominated for YALSA's 2014 Best Fiction for Young Adults. Her short fiction has appeared in Strange Horizons and Daily Science Fiction. Visit her at CassandraRoseClarke.com.

Ian Tregillis is the son of a bearded mountebank and a discredited tarot card reader. He is the author of the Milkweed Triptych, Something More than Night, and the Alchemy Wars trilogy. His most current novel is The Rising (Alchemy Wars #2). His short fiction has appeared at numerous venues including Tor.com, Fantasy & Science Fiction, and Popular Science. He lives in New Mexico, where he consorts with writers, scientists, and other disreputable types.

Michael Swanwick has received the Nebula, Theodore Sturgeon, World Fantasy, and Hugo Awards. He has written nine novels, 150 short stories, and countless flash fictions. His latest novel, Chasing the Phoenix, is available from Tor Books.
or
Not Currently Available for Direct Purchase