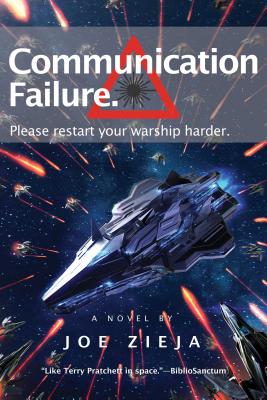 Communication Failure (Epic Failure Trilogy #2) (Paperback)
Gallery / Saga Press, 9781481486903, 336pp.
Publication Date: November 7, 2017
Other Editions of This Title:
MP3 CD (11/7/2017)
Hardcover (11/7/2017)
* Individual store prices may vary.
Description
In this sequel to Mechanical Failure, Captain Rogers, despite his best attempts to do otherwise, has become the acting admiral of the 331st Meridan fleet. His first task: worrying. A lot.

The rival Thelicosan fleet, under the influence of bad intelligence, a forbidden romance, and a communication officer with an eardrum injury, is about to break a two-hundred-year-old nonaggression pact. They have offered a vague, easily misinterpreted message: "We're invading." Rogers isn't sure, but he thinks that's probably bad.

War is hell, especially when you've forgotten how to fight one.
About the Author
Joe Zieja is an author with a long history of doing things that have almost nothing to do with writing at all. A graduate of the United States Air Force Academy, Joe dedicated over a decade of his life to wearing The Uniform, marching around in circles and shouting commands at people while in turn having commands shouted at him. It was both a great deal of fun and a great nuisance, and he wouldn't have had it any other way. Joe's also a commercial voiceover artist and a composer of music for video games and commercials. He's probably interrupted your Spotify playlist at least once to encourage you to click on the banner below and isn't the least bit upset that you ignored him.
Praise For Communication Failure (Epic Failure Trilogy #2)…
"Because it's nice to be reminded that sci-fi can be super silly and super smart about it, and because sarcastic homicidal robots rule."
— The Best Science Fiction & Fantasy Books of 2016

"Because it's nice to be reminded that sci-fi can be super silly and super smart about it, and because sarcastic homicidal robots rule."
— The Best Science Fiction & Fantasy Books of 2016