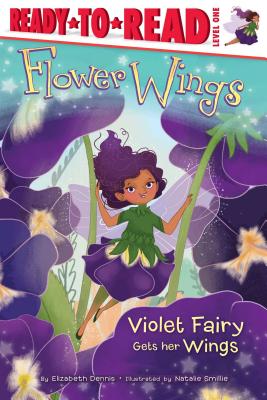 Violet Fairy Gets Her Wings (Flower Wings #1) (Paperback)
Simon Spotlight, 9781481487979, 24pp.
Publication Date: December 13, 2016
Other Editions of This Title:
Hardcover (12/13/2016)
* Individual store prices may vary.
Description
Get to know the Flower Wings in this Level 1 Ready-to-Read that is perfect for emerging readers!

Meet the Flower Wings! To most people, they look like regular flowers, but Rose, Violet, Lily, and the others are actually fairies with flower powers. When they use their powers to help each other, they also help make natural wonders!

In this Level 1 Ready-to-Read, Violet Fairy gets her wings! Rose Fairy welcomes her to the garden by inviting her for tea, but it starts to rain and the roof of Rose's fairy cottage begins to leak. Violet wants to fix it! With a little help from some friendly silkworms and a special flower power that was inside her all along, Violet finds a way. To thank her, Mother Nature makes a double rainbow!

Includes a map of the Flower Wings garden and an extend-the-learning section with fun facts about the science behind why silk is strong and how real violets are just as determined as Violet Fairy!
About the Author
Elizabeth Dennis grew up in Arizona, where she loved finding teeny, tiny, fairy-sized wildflowers in the desert and seeing double rainbows over the mountains. Nowadays, she lives in New York City and writes and edits books for children, and still loves flowers, nature, and double rainbows!

Natalie Smillie grew up in Devon, England, and was not quite born with a pencil in her hand but pretty close! She's done lots of things with her life so far including joining the Royal Air Force, moving to Scotland, and going back to college at twenty-seven. Natalie currently lives in northern Ireland with her husband, dog (Maggie), and an aloe vera plant named Kingston. She's obsessed with toffee, tea, and carrot cake, and if she could be an item of clothing she would be a cardigan.