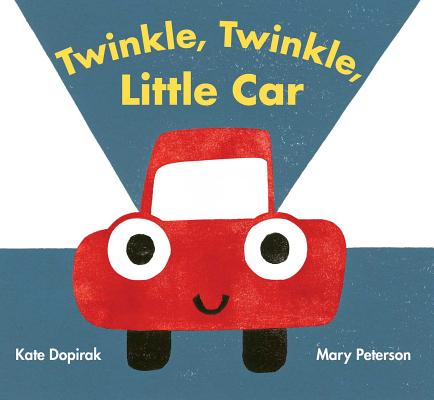 Twinkle, Twinkle, Little Car
Hardcover

* Individual store prices may vary.
Description
A little red car beeps good night to all of his four-wheeled friends in this fresh take on the classic song, "Twinkle, Twinkle, Little Star."

Twinkle, twinkle, little car,
how you love to travel far.
Now it's time to go to bed.
But you want to drive instead.

It's time for Little Car to go to sleep, but he isn't tired yet! So he cruises around town saying goodnight to all of his friends, from the tractors in their shed to the buses and taxis in town to the cranes and diggers at the construction site. Finally exhausted, Little Car putt-putts home where at last his beep-beep dreams begin.
Praise For Twinkle, Twinkle, Little Car…
An automobile stand-in for the young and the restless rejects the siren song of bedtime. This book may offer the chance to sing it in its entirety to the tune of "Twinkle, Twinkle, Little Star," but readers should think hard before committing to it. To that most familiar of tunes, a spunky red car leaves its garage at bedtime to zip and zoom past various fellow vehicles at night. They all—tractors and diggers, planes and fire trucks—get a chipper nighttime salute from the zippy vehicle. After an evening of high energy, at last the auto is ferried back to its cozy home, ready to let the "beep-beep dreams begin." Simply reading the book is just as effective as (if not more so than) singing it, and it has the lilting cadences common to bedtime fare. There's even a bit of levity, as when a number of vehicles respond to the little car with their signature sounds. There is an old car ("Ah-OOH-ga!"), an ice cream truck ("Zing!"), a truck ("HONK!"), and an improbably rude-sounding school bus ("BLARG!"). Artistically, the soothing hand-printed linoleum blocks, digitally collaged in shades of brown, red, blue, and yellow, lend the proceedings a calming atmosphere. Bedroom garages outfitted with this little auto are sure to be sites of requests for repeated readings. (Picture book. 3-6)
— Kirkus

Dopirak (You're My Boo) and Peterson (Dig In!) team up for a soothing and smartly executed vehicular riff on a familiar lullaby. The title character—a cheerful, googly-eyed convertible—decides to go out for a nighttime spin: "Twinkle, twinkle, little car,/ how you love to travel far! Now it's time to go to bed./ But you want to drive instead." Cruising into town, the auto gives good-night beeps to its pals: tractors dozing in a shed, big machines wrapping up work at a construction site, wide-awake emergency response vehicles on call, and a parade of "trucks and taxis, buses too." Despite all of the racing around, Dopirak keeps the mood even-keeled, and the subdued palette of Peterson's digitally colored linoleum block prints does the same. Her chunky nighttime scenes are dominated by swaths of muted gray-blue that contrast with bright white headlight beams and a looping golden road. Even the vehicles' interspersed honks and sirens never get too rowdy, printed in a small, almost polite font.
— Publishers Weekly

With so many picture books featuring bedtime activities for vehicles, the topic almost seems poised to become its own genre. This entry cleverly lifts its title and first line—though little else—from the wellknown nursery rhyme, then follows a googly-eyed, rosy-cheeked bright red car on its quest to delay bedtime by traveling to bid "good night" to a noteworthy variety of vehicles. The text describes the action in short couplets: "Honk to tractors in their shed. / They're already tucked in bed." Ample sound effects ("Beep! Beep!" "Vroom-vroom-zooms" "Ah-OOH-ga!") provide opportunities for a lively read-aloud. Illustrations in a limited palette of muted colors, created with hand-painted linoleum blocks that have been digitally collaged, show the sporty red auto encountering chipper vehicles at every turn. The blocky vehicles—many with googly eyes like Little Car's—are clearly placed in context, but the backdrops are kept simple so each is easily identifiable. Oddly enough, Little Car's little road trip has just the right elements for both a quiet bedtime diversion and a lively storytime session. — Randall Enos
— Booklist

A little red car wants to keep driving instead of going to bed. He cruises around to say goodnight to other vehicles. The little car meets tractors, an airplane, a fire engine and others during his nighttime adventure. This book is a great bedtime read-aloud. The narrative's rhyming structure can be read to the tune of "Twinkle Twinkle, Little Star." Vehicular sounds are sprinkled throughout, adding another fun and educational element to the text. The car's large round eyes are a focal point, and all of the vehicles sport notably cheerful expressions. The clever use of light is also noteworthy. Light coming from the vehicles is heavily emphasized with bright triangular shapes, adding a vibrant visual element to the dark night sky. The illustrations are done with combinations of geometric shapes. They also feature an abundance of primary colors. These bright colors pop against the book's dark nighttime background. VERDICT A unique twist on a pleasantly familiar tune and an appealing bedtime read-aloud, especially for vehicle lovers.
— School Library Journal
Beach Lane Books, 9781481488037, 40pp.
Publication Date: February 13, 2018
About the Author
Kate Dopirak (1975–2018) loved walking her puppy, watching her sons play basketball, and convincing her husband to share a cheese plate instead of wings. She also loved to write for kids. Kate was a teacher, a reading specialist, and the Assistant Regional Advisor for Western Pennsylvania SCBWI. Her books include You're My Boo; Twinkle, Twinkle, Little Car; and Hurry Up. Visit her at KateDopirak.com.

Mary Peterson was born and raised in Iowa on a small family farm surrounded by cornfields and lots of animals. Those early years in the company of critters large and small continue to provide inspiration for her art. She is the illustrator of many books for children and lives in Los Angeles, California.
or
Not Currently Available for Direct Purchase