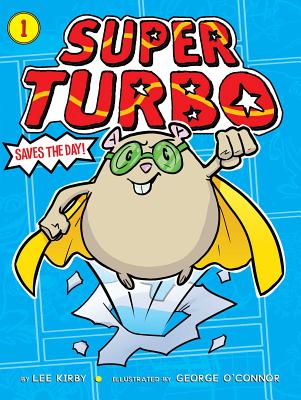 Super Turbo Saves the Day!
Hardcover

* Individual store prices may vary.
Other Editions of This Title:
Paperback (12/20/2016)
Description
He's not just the class pet hamster, he's SUPER TURBO! In this brand-new series that's packed with adventure, Captain Awesome's loyal sidekick is the star of the show!

You know Turbo as the crime-fighting hamster from the Captain Awesome books. But ever wonder what actually goes on when the last school bell rings and Turbo is left to his own devices? After all, what do you think your class pets do all day? You think they sleep, eat, and wait for you to play with them? Well, think again, because Turbo isn't just any hamster. He's SUPER TURBO and he's here to fight evil in and out of the classroom! Along with his superpet companions, Turbo battles everyday evils at Sunnyview Elementary, such as flying ninja squirrels, a gang of evil rats, giant Eraser Dude, and more!

In this first book, Turbo realizes that he's not the only superpet in town (or in school). As he meets fellow superpets, such as Angelina the guinea pig (a.k.a. Wonder Pig) and Frank the rabbit (a.k.a. Boss Bunny), he also encounters a super VILLAIN: a rat who goes by the name of Whiskerface. Can Turbo and the Superpet Superhero League save the school from Whiskerface and his rat pack?

With easy-to-read language, illustrations, and comic panels on almost every page, the Super Turbo chapter books are perfect for emerging readers!
Praise For Super Turbo Saves the Day!…
On an otherwise quiet snow day, a group of classroom pets discovers that there is evil afoot—or rather a-paw. Residing in Classroom C, Super Turbo—second-grade pet by day, superhero hamster by night—keeps watch during a snow day. Feeling brave, he ventures out and quickly discovers that each classroom has its own pet and that each pet is a superhero just like him. The pets—including Boss Bunny, Wonder Pig (a guinea pig), and the Great Gecko—form the Super Pet Superhero League just in time to face off against the nefarious (although very small) Whiskerface, a rat with delusions of grandeur and aspirations to world domination. Will the superpets be able to fend off the diabolical Whiskerface and his rat pack? A spinoff series set in the same locale as the Captain Awesome books, this peppily paced romp mixes prose and graphic-novel-styled panels for a highly visual look that should attract a wide audience of young readers. Kirby's tale is a bit formulaic, but it's a tried-and-true formula that should keep pages flying. Expect fans of the popular Geronimo Stilton or Babymouse series to gravitate to this with its similar stylization, breezy plotlines, and accessibly adorable animal cast. An episodic eyeful that's abundantly cute and silly. (Graphic/fantasy hybrid. 5-8)
— Kirkus Reviews
Little Simon, 9781481488853, 128pp.
Publication Date: December 20, 2016
About the Author
Lee Kirby has the proportionate strength and abilities of a man-sized hamster. He spends his days chewing up cardboard and running in giant plastic bubbles throughout his very own fortress of solitude in Brooklyn, New York. And, no, he is not related to world-famous Captain Awesome author, Stan Kirby. Or is he?

George O'Connor is the creator of the New York Times bestselling graphic novel series Olympians, in addition to serving as the illustrator of the Captain Awesome series. He is also the author and illustrator of the picture books Kapow!, Ker-splash, and If I Had a Triceratops. He resides in his secret Brooklyn, New York, hideout, where he uses his amazing artistic powers to strike fear in the hearts of bad guys everywhere!