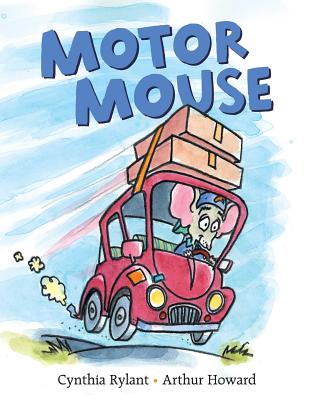 Motor Mouse (Motor Mouse Books) (Hardcover)
Beach Lane Books, 9781481491266, 64pp.
Publication Date: April 23, 2019
* Individual store prices may vary.
Description
Join Motor Mouse on three hilarious adventures in this irresistible start to a brand-new series from the creators of Gooseberry Park and the Mr. Putter and Tabby books!

Motor Mouse is a busy little mouse, between driving his delivery car, eating cake, and visiting with friends. Come along with him on his adventures!

In "The Friday Cake Day," Motor Mouse and his friend Telly have been looking forward all week to their Friday tradition of eating cake. But when Friday arrives, the Cake Shop is closed. This is not acceptable! Could a friendly hedgehog help them with their predicament?

In "Going For a Look-About," Motor Mouse decides that instead of driving, he'd like to go for a look-about as a passenger instead. So he hires a cab to take him to places that bring back good memories of old friends. But is a brand-new friend right in front of him?

In "Front Row at the Picture Show," Motor Mouse and his brother, Vincent, are going to a movie. Vincent always insists on getting a large bucket of popcorn to share, since it's a better deal than two small buckets. But he always hogs it! What is Motor Mouse to do?

This sweet and funny trio of stories is sure to have young readers wanting to visit with Motor Mouse again and again.
About the Author
Cynthia Rylant is the author of more than 100 books for young people, including the beloved Henry and Mudge, Annie and Snowball, Brownie & Pearl, and Mr. Putter & Tabby series. Her novel Missing May received the Newbery Medal. She lives in Lake Oswego, Oregon. Visit her at CynthiaRylant.com.

Arthur Howard is the illustrator of Goatilocks and the Three Bears by Erica S. Perl, Noodle & Lou by Liz Garton Scanlon, the Mr. Putter and Tabby series and Gooseberry Park books by Cynthia Rylant, and his own picture books. He has also coauthored and illustrated many books of humor for adults and appeared for seven seasons in the PBS math-oriented production Square One Television. He lives in New York City.
Praise For Motor Mouse (Motor Mouse Books)…
Pie, cake, ice cream, popcorn, and bowling only hint at the pleasures to be found in three effervescent little stories. Motor Mouse is a hardworking rodent, and when it comes to his downtime, he certainly knows how to relax. In "The Friday Cake Day" a catastrophic inaccessibility of delights (read: a closed cake shop) leads to new vistas as the titular hero and his friend Telly (an otter) discover the wide and wonderful world of pie. In "Going for a Look-About," Motor Mouse cedes driving control to a raccoon cabbie so that he can take his eyes off the road for once. Finally, in "Front Row at the Picture Show," a long-standing grudge involving a popcorn-hogging brother comes to a head with satisfactory results. Rylant's grasp of succinct storytelling is on full display. Wry understatement (the pie is deemed by Motor Mouse and Telly to be "QUITE ACCEPTABLE," while an arrangement whereby two brothers share a single bucket of popcorn "had not worked for years. And it was not working this Saturday, either") creates memorable characters with minimal syllables. Howard's art too, honed on the author's 27 Mr. Putter & Tabby books, deftly balances heart, humor, and the occasional magnificent burst of pathos. In the words of Motor Mouse himself, "QUITE ACCEPTABLE"—actually, more than quite. (Picture book. 4-7)
— **STARRED REVIEW** Kirkus Reviews

Given the title, readers may expect to meet a mouse who's crazy about cars and always zooming about. But while Motor Mouse does have a little red car and drives it "here and there, making deliveries," neither car nor service are central to the book's three emotionally rich short stories. In the first, a hedgehog helps Motor Mouse and his cake-enthusiast friend Telly get out of their comfort zone and try pie on what is usually their shared end-of-the-work- week celebration, Cake Friday. In the third, he negotiates an ongoing sibling battle over hogging movie popcorn. And in the middle and most profound story, Motor Mouse hires a cab—he wants to be the passenger, for once—who takes him to his old school, where he discovers that nostalgia isn't all it's cracked up to be. As ever, the team behind the Mr. Putter & Tabby series delights: Howard's bright, boldly outlined cartooning keeps the mood buoyant, and Rylant offers knowing, laugh-out-loud-funny narration. But what readers ultimately come away with is deep satisfaction of having spent time with a rodent who is competent, caring, and at home in the world.
— Publishers Weekly *STARRED REVIEW