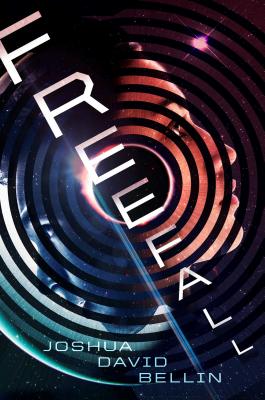 Freefall (Hardcover)
Margaret K. McElderry Books, 9781481491655, 368pp.
Publication Date: September 26, 2017
Other Editions of This Title:
Paperback (12/31/2050)
* Individual store prices may vary.
Description
When the 1% and the 99% clash, the fate of the human race hangs on the actions of two teens from very different backgrounds in this thrilling adventure that School Library Journal calls "a strong choice for YA sci-fi shelves."

In the Upperworld, the privileged 1% are getting ready to abandon a devastated planet Earth. And Cam can't wait to leave. After sleeping through a 1,000-year journey, he and his friends will have a pristine new planet to colonize. And no more worries about the Lowerworld and its 99% of rejects.

Then Cam sees a banned video feed of protesters in the Lowerworld who also want a chance at a new life. And he sees a girl with golden eyes who seems to be gazing directly at him. A girl he has to find. Sofie.

When Cam finds Sofie, she opens his eyes to the unfairness of their world, and Cam joins her cause for Lowerworld rights. He also falls hard for Sofie. But Sofie has her own battles to fight, and when it's time to board the spaceships, Cam is alone.

Waking up 1,000 years in the future, Cam discovers that they are far off-course, trapped on an unknown and hostile planet. Who has sabotaged their ship? And does it have anything to do with Sofie, and the choices—and the enemies—he made in the past?
About the Author
Joshua David Bellin has been writing books since the age of eight (though his first few were admittedly very, very short). He is the author of Freefall, Survival Colony 9, and Scavenger of Souls. When he's not writing, he spends his time drawing, catching amphibians, and watching monster movies with his kids. A Pittsburgh native, Josh has taught college English, published three nonfiction books (one about monsters!), and taken part in the movement to protect the environment. You can find him online at JoshuaDavidBellin.com.
Praise For Freefall…
"A unique spin on the sci-fi trope of exploring new worlds, as much of the action is still focused on humanity's weaknesses. Detailed world-building is sacrificed to focus on character development; insightful backstories aid in rooting for (and against) the main characters. Even minor characters come alive with humanity under the author's deft workmanship. VERDICT A strong choice for YA sci-fi shelves."

"Brings new meaning to "star-crossed lovers"—read it for the intriguing concepts that play out behind the romance."

"Bellin has created a fantastic world, one highlighting socioeconomic and racial inequalities that you see today but in a space opera, where corporations run the world...Fans of sci-fi that touches on contemporary issues will be intrigued by this title."