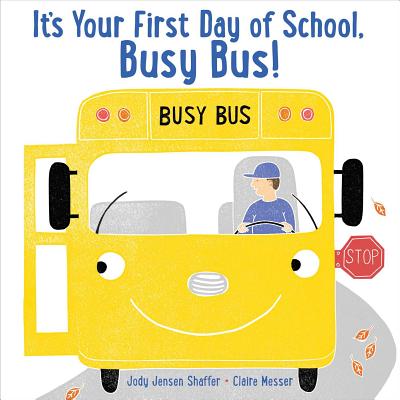 It's Your First Day of School, Busy Bus!
Hardcover

* Individual store prices may vary.
Description
It's the first day of school! But is Busy Bus ready? Find out in this darling picture book that showcases the excitement and worries little ones experience as they prepare for their first day.

Today is the very first day of school! Busy Bus is excited, but he also has some first-day jitters. Will the children like him? Will he be homesick? What if he gets lost?! Luckily, bus driver Ben knows just what to do to make sure that the school year gets off to a great start.
Praise For It's Your First Day of School, Busy Bus!…
First-day jitters aren't just for kids. As another school year dawns, a new-to-the-route school bus wonders if he's up to the job of transporting students. Luckily, Ben the bus driver makes sure that Busy Bus—contemporary of Bossy, Zippy, Bouncy, and Big Buses—is shipshape. Fans of stories about trucks and how things work will enjoy the behind-the-scenes action at the bus barn as Ben makes adjustments and preparations ("He fills Busy Bus's tanks with gas. /Gussshhhh!"), and inspects the fire extinguisher and first aid kit. Messer's digitally colored, lino-print-and-ink images showcase a sunny fleet of anthropomorphized yellow vehicles with headlight eyes and windshield-wiper eyebrows, which expressively raise as Busy Bus expresses his trepidation, and then form a rainbow arch when Busy Bus happily settles into his first day on the job.
— Publishers Weekly

PreS-Gr 1–Although Busy Bus is nervous about meeting the children, Ben the bus driver performs final preparations for the first day by checking the tires, windshield wipers, and other safety precautions to reassure Busy Bus before they pick up the children. The illustrations, created with lino prints, black ink, and digital colors, use rounded shapes and a soft, limited color palette. Each scene takes up the full page spread and the illustrations make good use of white space, especially when framing Busy Bus's most intense moments of anxiety about whether he will miss home or make new friends. The words and pictures together create the gentle introduction to the school bus and leave readers with the knowledge that Busy Bus is safe, clean, and ready for a great school year. VERDICT An excellent read-aloud for young children, especially during the first weeks of the school year or if children have worries about riding the school bus.–Kelly Topita, Anne Arundel County Public Library, MD
— School Library Journal

"...the lino print and black ink illustrations with digital color are cute and cheerful, and readers will learn the parts of a bus....For vehicle enthusiasts just starting school."
— Kirkus Reviews
Beach Lane Books, 9781481494670, 32pp.
Publication Date: July 3, 2018
About the Author
Jody Jensen Shaffer is an award-winning poet and the author of more than thirty-five books of fiction and nonfiction for children. Her books include Prudence the Part-Time Cow, which was chosen to represent Missouri at the National Book Festival in 2017 and has been nominated for the 2019–2020 Show Me Award; A Chip Off the Old Block; It's Your First Day of School, Busy Bus!; It's a Field Trip, Busy Bus!; and more. Jody's poetry and fiction have been published in great children's magazines like Highlights, Ladybug, and Clubhouse Jr. Jody lives in Liberty, Missouri, with her family. You can find Jody online at JodyJensenShaffer.com and on Twitter at @JodyWrites4Kids.

Claire Messer is a graduate of the Cambridge School of Art. She works by hand, using traditional printmaking processes to create her picture books, which include the Busy Bus series by Jody Jensen Shaffer and her own Grumpy Pants. She lives in the UK.