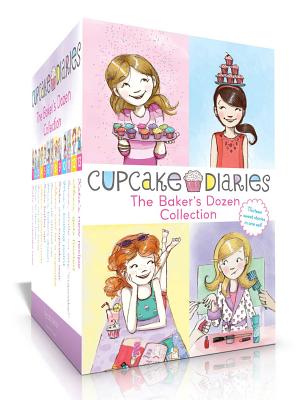 The Baker's Dozen Collection (Paperback)
Katie and the Cupcake Cure; Mia in the Mix; Emma on Thin Icing; Alexis and the Perfect Recipe; Katie, Batter Up!; Mia's Baker's Dozen; Emma All Stirred Up!; Alexis Cool as a Cupcake; Katie and the Cupcake War; Mia's Boiling Point; etc. (Cupcake Diaries)
Simon Spotlight, 9781481495431, 2080pp.
Publication Date: July 4, 2017
* Individual store prices may vary.
Description
Thirteen yummy Cupcake Club adventures are now available together in one sweet collectible boxed set!

Middle school can be hard…some days you need a cupcake. Join Katie, Mia, Emma, and Alexis as they form the Cupcake Club—and fast friendships—and navigate the trials and tribulations of middle school in these sweet stories. This mouth-watering collection includes paperback editions of:
Katie and the Cupcake Cure
Mia in the Mix
Emma on Thin Icing
Alexis and the Perfect Recipe
Katie, Batter Up!
Mia's Baker's Dozen
Emma All Stirred Up!
Alexis, Cool as a Cupcake
Katie and the Cupcake War
Mia's Boiling Point
Emma, Smile and Say "Cupcake!"
Alexis Gets Frosted
Katie's New Recipe
About the Author
From cupcakes to ice cream and donuts! Having written over thirty books about middle school girls and cupcakes and ice cream, Coco Simon decided it was time for a change; so she's switched her focus from cupcakes to her third favorite sweet treat: donuts! When she's not daydreaming about yummy snacks, Coco edits children's books and has written close to one hundred books for children, tweens, and young adults, which is a lot less than the number of cupcakes, ice cream cones, and donuts she's eaten. She is the author of the Cupcake Diaries, the Sprinkle Sundays, and the Donut Dreams series.