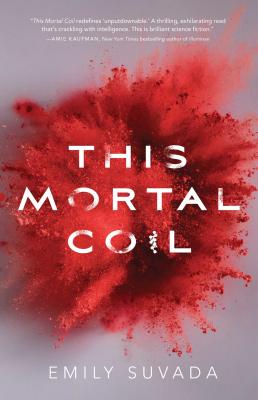 This Mortal Coil
Hardcover

* Individual store prices may vary.
Other Editions of This Title:
Digital Audiobook (11/6/2017)
Description
In this gripping debut novel, seventeen-year-old Cat must use her gene-hacking skills to decode her late father's message concealing a vaccine to a horrifying plague.

Catarina Agatta is a hacker. She can cripple mainframes and crash through firewalls, but that's not what makes her special. In Cat's world, people are implanted with technology to recode their DNA, allowing them to change their bodies in any way they want. And Cat happens to be a gene-hacking genius.

That's no surprise, since Cat's father is Dr. Lachlan Agatta, a legendary geneticist who may be the last hope for defeating a plague that has brought humanity to the brink of extinction. But during the outbreak, Lachlan was kidnapped by a shadowy organization called Cartaxus, leaving Cat to survive the last two years on her own.

When a Cartaxus soldier, Cole, arrives with news that her father has been killed, Cat's instincts tell her it's just another Cartaxus lie. But Cole also brings a message: before Lachlan died, he managed to create a vaccine, and Cole needs Cat's help to release it and save the human race.

Now Cat must decide who she can trust: The soldier with secrets of his own? The father who made her promise to hide from Cartaxus at all costs? In a world where nature itself can be rewritten, how much can she even trust herself?
Praise For This Mortal Coil…
This Mortal Coil redefines "unputdownable." A thrilling, exhilarating read that's crackling with intelligence. Compelling characters and and incredible twists come together perfectly—I loved this book. This is brilliant science fiction.


— Amie Kaufman, New York Times bestselling author of Illuminae

"I was thrilled; I was shocked; I have so many questions. I want to know what happens next."
— NPR

"I can't remember the last time I was so hooked by a book. Relentlessly paced, expertly plotted, and with a romance as tense and as captivating as her wicked twists, Emily Suvada has crafted an unputdownable story. I loved every terrifying page."
— Stephanie Garber, bestselling author of Caraval

"With a backdrop of amazing science and technology, THIS MORTAL COIL is a smart, page-turning thriller that gave me chills. I couldn't put this book down."
— Laini Taylor, New York Times bestselling author of Strange the Dreamer and the Daughter of Smoke & Bone trilogy

In Catarina's world, changing your body is as simple as pressing a few buttons. Technology implants allow people to alter their DNA. Cat's father, Dr. Lachlan, is a renown geneticist. When he is kidnapped by the shady organization Cartaxxus, Cat is left to fend for herself. Two years later, she is struggling to survive in a world where a disease with no cure has run rampant and her father has not returned. On the surface of the earth, humanity struggles to struggles to survive, while underground bunkers serve as safe havens. Entrance to the bunkers is limited to only those willing to give up their personal technology to Cartaxxus. Cat's life assumes a new purpose when Cole, a Cartaxxus soldier, shows up with an encrypted message for her from her deceased father. The message contains information the doctor left regarding a vaccine for the killer disease. Cat must decide whom she can trust with her life, and the future of the world.

Based upon today's technological advances and the rate at which they are evolving, the futuristic world Suvada has created is believable. Teens will relate to the setting, the worldbuilding, and the characters as society deals with the consequences of technological advancement. Cat's disease prevents her body from handling new technology. She struggles with not being able to share what other people experience—a relatable issue for most teens. The attraction between Cole and Cat is painfully palpable and engaging, another enticement for teen readers. Suvada's debut novel balances characterization and action with an intensity that readers of dystopian fantasy will find infectious.—Tom Malinowski.
— VOYA

For two years, 17-year-old Catarina Agatta, a talented hacker, has survived on her own in the Black Hills: her scientist father, Lachlan, was taken by the powerful Cartaxus organization after the Hydra plague brought humanity to its knees. It's dangerous outside: mindless, cannibalistic humans called Lurkers roam, and those infected with the virus explode at the final stage of the disease, spreading it through the air. Only eating a victim's flesh provides temporary immunity ("This is the Hydra virus's cruelest side: It forces the healthy to eat the sick"). When Cole Franklin, a Cartaxus soldier, brings news that Lachlan is dead and Cat must decrypt a Hydra vaccine that he developed, she agrees to help. Suvada's scary, action-packed debut novel barely takes a breath, and its exploration of what makes us human goes well below the surface. Despite some familiar elements in the novel—such as Cat's struggles with her father's motives, a love triangle, and her own identity—Suvada's vibrantly imagined technology will spark readers' imaginations. A genuinely shocking twist sets up a planned sequel.
— Publishers Weekly

Postapocalyptic thrillers are everywhere, and mostly derivative. Suvada's debut, however, adds an intriguing element: a genius girl hacker. Catarina Agatta has been surviving on her own since her geneticist father, Lachlan, was kidnapped two years ago by Cartaxus, an organization with questionable motives and actions. Now a Cartaxus soldier named Cole shows up, telling her Lachlan is dead and Catarina is the only one who can crack an encrypted code. This will release the vaccine for the terrible Hydra plague that has been decimating what's left of the world population. Initially reluctant to cooperate with Cartaxus, Catarina must quickly find out what's really going on, and in the process of digging through Cole's past and identity to determine his trustworthiness, she discovers shocking truths about her own identity. Tech geeks will relish the myriad details of AI, romance readers will enjoy the predictable progression of Cole and Catarina's relationship, and action and gore fans will delight in the blood and guts throughout. — Debbie Carton
— Booklist

Since a plague ravaged the world and her geneticist father was kidnapped by the ruling corporation of Cartaxus, seventeen-year-old Catarina Agatta has been surviving on her own, working as a hacker for the resistance movement known as the Skies. Her father's been gone for two years when Cole, an AWOL Cartaxus soldier, shows up at her cabin with news of her father's death and a message from him: he succeeded in creating a vaccine, and he wants Cat and Cole to work together to decrypt it and release it to the public. Suvada sets up a familiar opposition in this post-apocalyptic future and then quickly upends it. Cole is hardly the corporate goon Cat expected, and she soon realizes that Cartaxus isn't quite the oppressive regime she's been led to believe, either; Cat also learns that the father she'd idolized as a hero had spent years conducting cruel experiments on children—including Cole—in the service of what he believed was the greater good. She's forced to reckon with both her own and her father's motives when it becomes clear that decrypting the vaccine is going to come at a terrible cost to her. Cat and Cole's relationship develops in a satisfying slow burn as they follow Cat's father's breadcrumb trail, complicated by both of their lingering feelings for others. Swift, intense action sequences balance more intimate and philosophical moments, and stunning twists and turns make for a nail-biting final act. The conclusion puts the most urgent threat to rest, but the final scenes see Cat and Cole hitting the road again to deal with the more insidious menace that's been revealed. Readers will eagerly anticipate delving further into Cat and Cole's world and adventures.
— BCCB *STARRED REVIEW
Margaret K. McElderry Books, 9781481496339, 432pp.
Publication Date: November 7, 2017
About the Author
Emily Suvada was born and raised in Australia, where she went on to earn a degree in mathematics. She previously worked as a data scientist, and still spends hours writing algorithms to perform tasks which would only take her minutes to complete on her own. When not writing, she can be found hiking, cycling, and conducting chemistry experiments in her kitchen. She currently lives in Portland, Oregon, with her husband.
or
Not Currently Available for Direct Purchase