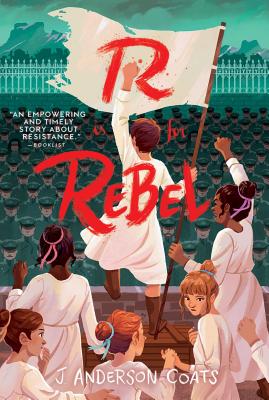 R Is for Rebel (Paperback)
Atheneum Books for Young Readers, 9781481496681, 272pp.
Publication Date: February 19, 2019
Other Editions of This Title:
Hardcover (2/20/2018)
* Individual store prices may vary.
Description
"An empowering and timely story about resistance." —Booklist

Princess Academy meets Megan Whalen Turner in this stunning novel about a girl who won't let anything tame her spirit—not the government that conquered her people, and definitely not reform school!

Malley has led the constables on a merry chase across her once-peaceful country. With her parents in prison for their part in a failed resistance movement, the government wants to send her to a national school—but they'll have to capture her first.

And capture her they do. Malley is carted off to be reformed as a proper subject of the conquering empire, reeducated, and made suitable for domestic service. That's the government's plan, anyway.

But Malley will not go down without a fight. She's determined to rally her fellow students to form a rebellion of their own. The government can lock these girls up in reform school. Whether it can break them is another matter entirely…
About the Author
J. Anderson Coats has master's degrees in history and library science, and has published short stories in numerous literary magazines and anthologies. She is the author of the acclaimed novels The Wicked and the Just, The Many Reflections of Miss Jane Deming, R Is for Rebel, and The Green Children of Woolpit. She lives with her family in Washington State. Visit her at JAndersonCoats.com.
Praise For R Is for Rebel…
"Historical fiction master Coats invents a country and a history all her own to create the fully realized, inspirational protagonist Malley . . . Descriptions are at times graphic, but the realistic details only make Malley a more believable and empathetic character . . . An empowering and timely story about resistance."
— Booklist

"Themes of the cost of freedom and the power of identity shine through in powerful ways. Malley is a rebel to her core and her spirit won't let her accept the idea of submitting, especially not after what happened to her parents. While the nations depicted are imaginary, the connections to colonialism and past/present efforts to rub out supposedly inferior cultures is unmistakable. A strong purchase with powerful themes that will stick with readers."
— School Library Journal

"Malley is an engaging narrator whose gradual maturation adds an endearing layer to her character. . . . Although the book is set in a fictional semi-industrialized world, readers are likely to notice parallels from history . . . as well as themes, such as the complications that arise from ideological purity, that resonate with current political discussion."
— The Horn Book