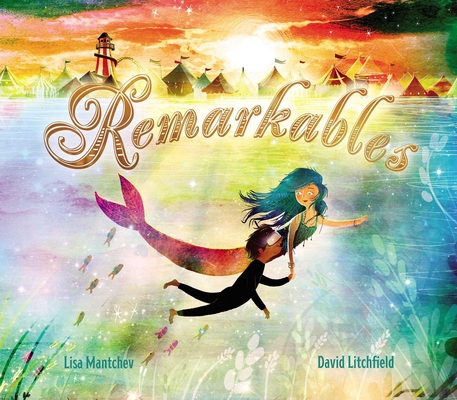 Remarkables
Hardcover

* Individual store prices may vary.
Description
"Breathtaking." —School Library Connection

"Enchanting art." —Publishers Weekly

Journey meets Pearl in this transcendent picture book about a mermaid finding her forever home, created by the author of Strictly No Elephants, Lisa Mantchev, and The Bear and the Piano author-illustrator David Litchfield.

When a boy is out swimming and looking for fish, he meets a mermaid instead. She is all alone. He welcomes her to his home and his circus family. Though she misses the ocean, she feels she has found a new family and home. With lyrical text and luminous artwork, Remarkables is a story of friendship and finding home. What a remarkable place the world is.
Praise For Remarkables…
In an enigmatic story, a boy snorkeling in the waters off a Coney Island–like amusement park has an unexpected encounter: "The world is a remarkable place, which means sometimes you go looking for a fish... and meet a mermaid instead," Mantchev writes pensively. In a sequence of wordless tableaus, the mermaid—nymphlike in Litchfield's enchanting art, with blue-green hair and a coppery tail—takes the boy to the ruins of her underwater home. On the surface, a circus is in full swing, full of revelers in long dresses and top hats. The mermaid and boy travel with the circus from city to city, the mermaid performing in small pools, then a glass aquarium. Readers may wonder at the mermaid's decision to give up the ocean for circus life, but the choice is clearly her own—as is her decision to eventually return home ("Sometimes we go looking for an adventure only to discover exactly where we belong").
— Publishers Weekly

This fanciful tale is about what it takes to create a home for someone who is all alone. The title page depicts a young boy strolling down a pier with net in hand in search of a fish. Instead, he meets a mermaid with whom he bonds immediately as the two laugh at the sight of a pucker-lipped fish. The mermaid leads him to her ocean home where bygone memories of happier times reside in a family photograph and floating childhood objects. Perceiving her loneliness and recognizing that the ending of one story might just be the beginning of another, the boy invites her into his world of the circus. On display as a spectacular wonderment, the mermaid now lives in a glass tank and seems to feel a sense of belonging. As strangers become friends, those friends become family who frolic with her in the ocean when she is not inside her tank. The story ends with the feeling that she is surrounded by the true love of her newfound circus family. Using sparse poetic language, Lisa Mantchev shows how being part of a family is the essence of creating a home and forming one's identity. This is a story of a world that becomes a remarkable place for those who dare to dream and make connections with life around them. David Litchfield's use of color and illusions to create worlds of both fantasy and reality are breathtaking.
— School Library Connection

While snorkeling in a glittering sea, a boy meets a blue-haired mermaid, who, in a series of wordless panels, leads him to the underwater city where she lives. Together they resurface and catch sight of a circus at the shore, which sparks a desire within the mermaid to perform. The slightly saccharine text is offset by Litchfield's rainbow-infused artwork, which evokes the wonder of individuality encompassed by the circus, where tattooed strongmen, trapeze artists, fireeaters, and clowns happily coexist. With the boy's help, the mermaid joins their ranks, first on display in a kiddie pool, then moving into a glass tank. It would be a depressing state of affairs, if the message of the book weren't about trying new things in order to find where you belong. Consequently, the mermaid's stint with the circus gives her an appreciation of the sea, to which she is lovingly returned by all her new friends. The prismatic illustrations are the real draw of this book, and the mermaid's agency in all her adventures lend it added sparkle.
— Booklist, Online Exclusive
Simon & Schuster/Paula Wiseman Books, 9781481497176, 40pp.
Publication Date: September 10, 2019
About the Author
Lisa Mantchev is the author of many picture books, including the internationally acclaimed Strictly No Elephants, illustrated by Taeeun Yoo; Remarkables, illustrated by David Litchfield; and Someday, Narwhal, illustrated by Hyewon Yum. Lisa lives on the Olympic Peninsula of Washington State. Learn more at LisaMantchev.com.

David Litchfield is the author-illustrator of The Bear and the Piano, which won the Waterstones Children's Book Prize in the illustration category and has sold in twenty-four countries. He is also the author-illustrator of Grandad's Secret Giant and the illustrator of many books for young readers. He lives in England with his family. Visit his website at DavidLitchfieldIllustration.com.