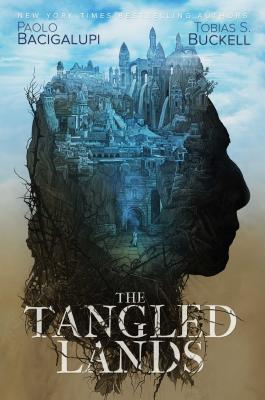 The Tangled Lands (Hardcover)
Saga Press, 9781481497299, 304pp.
Publication Date: February 27, 2018
* Individual store prices may vary.
Description
From award-winning and New York Times bestselling authors Paolo Bacigalupi and Tobias Buckell comes a fantasy novel told in four parts about a land crippled by the use of magic, and a tyrant who is trying to rebuild an empire—unless the people find a way to resist.

Khaim, The Blue City, is the last remaining city in a crumbled empire that overly relied upon magic until it became toxic. It is run by a tyrant known as The Jolly Mayor and his devious right hand, the last archmage in the world. Together they try to collect all the magic for themselves so they can control the citizens of the city. But when their decadence reaches new heights and begins to destroy the environment, the people stage an uprising to stop them.

In four interrelated parts, The Tangled Lands is an evocative and epic story of resistance and heroic sacrifice in the twisted remains surrounding the last great city of Khaim. Paolo Bacigalupi and Tobias Buckell have created a fantasy for our times about a decadent and rotting empire facing environmental collapse from within—and yet hope emerges from unlikely places with women warriors and alchemical solutions.
About the Author
Paolo Bacigalupi is the New York Times bestselling author of The Windup Girl, Ship Breaker, The Drowned Cities, Zombie Baseball Beatdown, The Doubt Factory, The Water Knife, Plump Six and Other Stories, and The Tangled Lands. His writing has appeared in WIRED, High Country News, Salon, OnEarth Magazine, The Magazine of Fantasy and Science Fiction, and Asimov's Science Fiction Magazine. He has won the Michael L. Printz, Locus, Hugo, Nebula, Compton Crook, and John W. Campbell awards.

Tobias Buckell is the New York Times bestselling author of Halo: The Cole Protocol and The Tangled Lands. His other novels and more than fifty short stories have been translated into seventeen languages. He has been nominated for the Hugo, the Nebula, the Prometheus, and the John W. Campbell Award for Best New Science Fiction Author. He lives with his family in Ohio.
Praise For The Tangled Lands…
"A rich and haunting novel that explores a world where magic is forbidden."

"[Bacigalupi and Buckell] create a damaged world that is frightening in its implications for human suffering. Readers looking for dystopian fantasy with strong female characters will devour the stories of this world and eagerly wait for more."

"Better known for their science fiction, Buckell and Bacigalupi are adept in their use of fantasy motifs. Khaim is textured, a vivid setting only begun to be explored. [These] novellas succeed as action-packed individual stories."

"Paolo Bacigalupi and Tobias S. Buckell team up to bring a gripping fantasy to life."

"All four stories are beautiful, subtle and well worth every moment spent reading them."

"I found the book surprisingly hopeful. Resistance in the face of a corrupt government and broken systems can take many forms. Even though the characters live in constant fear, they all find ways to resist, even if it's just standing up for doing what's right. In today's climate of distrust and fake news, it's both devastating and yet encouraging."



"The Tangled Lands is a gripping story of resistance set in the last city of a crumbling empire, run by a tyrant and his henchman."

"I loved the world building in this book of four short stories set during the same time period in a world where magic has been banned by a corrupt government."