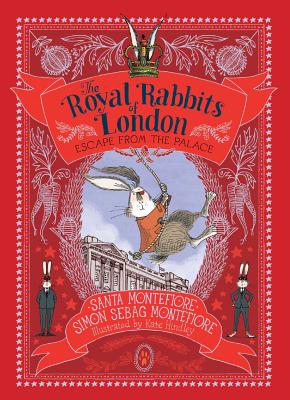 Escape from the Palace (The Royal Rabbits of London #2) (Hardcover)
Aladdin, 9781481498630, 224pp.
Publication Date: January 22, 2019
* Individual store prices may vary.
Description
Mission Impossible and James Bond have nothing on this wily bunch of rabbits who are pledged to protect the Queen of England—and the President of the United States—from a dastardly plot in this charming second novel of the Royal Rabbits of London series.

Life is an adventure. Anything in the world is possible—by will and by luck, with a moist carrot, a wet nose and a slice of mad courage!

Little Shylo Tawny-Tail is proud to call himself one of the Royal Rabbits of London, a secret order who live under Buckingham Palace and fight evil across the world. But high up in London's famous skyscraper, the Shard, the horrible ratzis are plotting to cause chaos during a visit from the President of the United States. And when the Grand Burrow is attacked and Shylo is kidnapped, it looks as though they might just manage it! Can Shylo escape in time to save the day?
About the Author
Santa Montefiore's books have been translated into more than twenty-five languages and have sold more than six million copies in England and Europe. She is married to writer Simon Sebag Montefiore. They live with their two children, Lily and Sasha, in London.

Simon Sebag Montefiore's bestselling and prize-winning books are now published in over forty-five languages. His new book The Romanovs: 1613–1918 has been universally acclaimed and is already a bestseller in the UK, Australia, and the USA where it was on the New York Times bestseller list for eight weeks. Montefiore has won literary prizes for both fiction and nonfiction. His latest novel, One Night in Winter won the Best Political Novel of the Year Prize and was longlisted for the Orwell Prize. He is now writing the third novel in this trilogy. Follow Simon on Twitter at @SimonMontefiore. For more information visit SimonSebagMontefiore.com.

Kate Hindley is an illustrator who graduated from Falmouth School of Art in 2008. She lives and works in Birmingham.
Praise For Escape from the Palace (The Royal Rabbits of London #2)…
"tongue-in-cheek fun. . . . Readers need not have read the first book, but they'd be doing themselves a disservice by not starting there. Another whimsical trip down the rabbit hole."
— Kirkus Reviews

Shylo, with his sensitive nose and quick wits, proves that "by will and by luck, with a moist carrot, a wet nose, and a slice of mad courage," anything is possible. Words to live by.
— Booklist on book 1, The Royal Rabbits of London

Shylo wends his way to London and, conquering fears and self-doubt, leads the delightfully eccentric Royal Rabbits on a labyrinthine search for a secret tunnel to foil the rats' paparazzi-style scheme. Composed of whisker-thin lines, newcomer Hindley's scratchy b&w illustrations echo the classic qualities of this polished animal fantasy driven, of all things, by a defense of one's right to privacy in a digital world.
— Publisher's Weekly on book 1, The Royal Rabbits of London