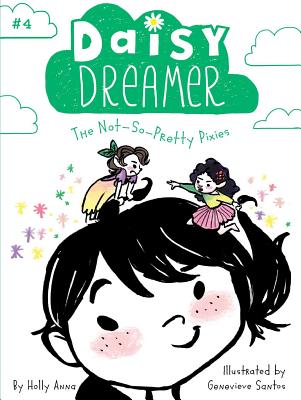 The Not-So-Pretty Pixies (Daisy Dreamer #4)
Hardcover

* Individual store prices may vary.
Other Editions of This Title:
Paperback (10/3/2017)
Description
Hi! I'm Daisy Dreamer. Join me in the World of Make-Believe and I'll tell you all about my Pretty Pixie Problem.

Have you ever met someone who was so pretty on the outside, but maybe not so pretty on the inside? It's totally confusing, right? Well, something like that just happened to yours truly, Daisy Dreamer. And it happened in the last place I'd have ever imagined…the World of Make-Believe! My new friend, Twee, is a Pretty Pixie. She lives in a pretty village deep in a pretty forest with lots of other Pretty Pixies. The problem is—some of her friends are being pretty mean. But not to worry, because Posey and I are on the case!

With easy-to-read language and illustrations on almost every page, the Daisy Dreamer chapter books are perfect for emerging readers.
Little Simon, 9781481498883, 128pp.
Publication Date: October 3, 2017
About the Author
Holly Anna has always had a wild imagination. When she was little, she used to doodle drawings that would transport herself and her friends to a wonderful world of make believe. Now she visits other worlds through writing. Holly lives in San Jose, California, with her family. They have four cats: Rocket J. Squirrel, Le Mew, The Honest John Wookenchops a.k.a. "Wookie", and Noel.

Genevieve Santos is an illustrator born, raised, and living in San Jose, California, and sole proprietor of a small stationery company, Le Petit Elefant. Wanderlust got the best of her so she's traveled to thirty-one countries before turning thirty, sometimes backpacking, sometimes by camper van, sometimes on her own, but always with a sketchbook. Her love for animation started at a young age, and is what drives her to draw the slightest observations. She also has an insatiable weakness for ice cream.