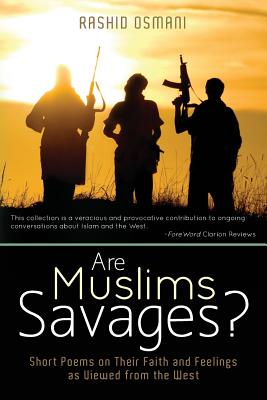 Are Muslims Savages? (Paperback)
Short Poems on Their Faith and Feelings as Viewed from the West
Createspace Independent Publishing Platform, 9781481853347, 158pp.
Publication Date: June 17, 2013
* Individual store prices may vary.
Description
Muslims constitute a fifth of the World's population and for a vast majority of the western world represent an unknown and menacing threat to freedom and liberty. Likewise, for a large number of Muslims, western culture represents the greatest threat to their faith and way of life. While there is some kernel of truth behind these widely held beliefs, an objective analysis shows that it is just not true. What is lacking is an understanding on both sides as to what each other's core beliefs are and why they are not totally incompatible. Poetry, as a vehicle for conveying feelings, is unmatched in the literary world. Short poems are particularly suitable for today's world of shorter attention spans. This book is a collection of short poems by Rashid Osmani on the faith and feelings of Muslims living in the west. Post 9/11, the world has witnessed major wars and a realignment of strategic interests around the world. Not unlike the harassment and internment faced by innocent Japanese citizens in the US, the entire Muslim community living in the west has experienced a negative spotlight on their culture and beliefs. In this collection, the author starts with poems that give voice to the silent victims of the so-called "War on terror". Later in the book, Islamic beliefs are described in a manner that is tuned to the western intellect and goes on to address aspects of western society viewed as hypocritical by Muslims. The last chapter is devoted to Sufi Philosophy, "Gushes of a Sufi Conscience", to highlight diversity of thought within Islam. Most poems are written in free verse, with little emphasis on rhyming so as to not compromise the underlying message.
About the Author
Rashid Osmani is an engineer by profession and has been a vice-president at major US corporations. He started writing poetry in 2009, following a near death experience. This is his second book to be published. He lives with his family in the Chicago area. He can be reached at rosmani1027@yahoo.com.