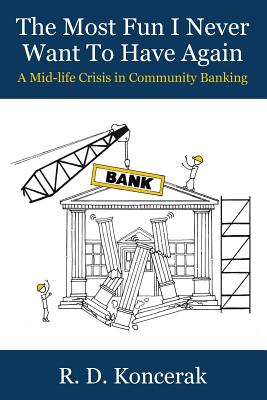 The Most Fun I Never Want To Have Again
A Mid-Life Crisis in Community Banking
Paperback

* Individual store prices may vary.
Description
In the early 2000's, America was in the midst of an economic boom. Nowhere was the prosperity more evident than across metro Atlanta and Georgia's thriving community banking industry. Georgia saw more new bank start-ups than almost any other US state between 1997 and 2007...and then suffered more bank failures than most states combined between 2008 and 2012. What happened? This book tells that story. At year-end 2012, the largest 1% of US banks controlled eighty six percent of American domestic deposits ...which means that 99% of America's 7,083 financial institutions held only fourteen percent of domestic deposits. Despite their challenges, community-based financial institutions remain America's predominant banking model. This is a story about the "other" 99 percent of American banking. Join author R.D. Koncerak on an eye-opening, insider's look at Georgia's community banking industry. From the forces that fueled the boom through 2007 to the crises that sent world markets reeling in 2008, this book is part financial documentary, part autobiography, and entirely entertaining. Koncerak combines an engaging writing style with a range of industry sources to deliver a firsthand account of success and failure in the business of banking. Chapters include organizing and launching a bank as a new business venture, managing in times of crisis and the FDIC closure process for a financial institution in distress. The book also offers candid leadership and career advice based on the author's adventures in the field. This expos includes trade articles and SEC extracts that provide insight into the greatest financial disaster to hit the United States since the Great Depression. Finally, "TMF" includes two guest chapters: an insightful industry overview from accomplished financial author John Mauldin, and advice on the future of community banking from strategist Karl Nelson.
Createspace Independent Publishing Platform, 9781481867955, 358pp.
Publication Date: July 20, 2013
About the Author
Bob Koncerak's financial services career spans the capital markets, wealth management and community banking. Bob has held both managerial and executive positions including Capital Markets CFO at Wachovia Bank, start-up CFO at Touchmark National Bank and Principal at BankForward Consulting, LLC. Earlier in his career, Bob served as Assistant Treasurer and Director of Investor Relations for J&L Specialty Steel, a major stainless manufacturer in Pittsburgh, PA. After completing several consulting assignments for Georgia-based institutions in recent years, Bob currently serves as EVP/CFO for Altrust Financial Services, Inc., in Cullman, Alabama. Bob is a speaker and writer on matters of financial interest and lives with his family in Alpharetta, Georgia.