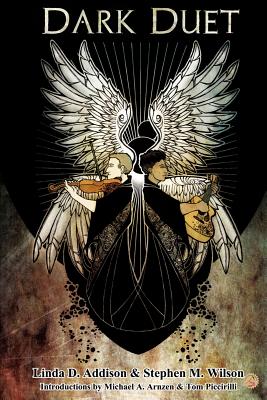 Dark Duet (Paperback)
Createspace Independent Publishing Platform, 9781481902649, 96pp.
Publication Date: January 10, 2013
* Individual store prices may vary.
Description
You've heard their voices before, but never like this: from three-time HWA Bram Stoker Award winner Linda D. Addison and multiple Rhysling Award nominee Stephen M. Wilson comes Dark Duet. Two different voices, in harmony, creating verse that sings and moves on the page, taking the reader through time and space on an infinite symphony of self-exploration. Come dance with them and you may find your own song.
About the Author
LINDA D. ADDISON is the first African-American to receive the HWA Bram Stoker Award and author of the award winning "How to Recognize a Demon Has Become Your Friend" (Necon E-Books). Her other three collections are still available: "Being Full of Light, Insubstantial," "Consumed, Reduced to Beautiful Grey Ashes" and "Animated Objects" (Space & Time Books). She has had fiction in three landmark anthologies that celebrate African-American speculative writers: the award-winning anthology Dark Matter: A Century of Speculative Fiction (Warner Aspect), Dark Dreams (Kensington), and Dark Thirst (Pocket Book). More at: http: //www.lindaaddisonpoet.com. STEPHEN M. WILSON is Poetry Editor for Abyss & Apex and also edits the spec poetry Twitterzine microcosms (@microcosms) and San Joaquin Delta College's literary magazine Artifact. Wilson spent 3+ years as Poetry Editor for Doorways Magazine and co editor of the Science Fiction Poetry Association's annual Dwarf Stars Award anthology. He's had several poems nominated for the Rhysling Award and a handful for the Dwarf Stars Award (including a win in 2011). He lives in Stockton, CA where he occasionally also writes short fiction. More at: http: //speceditor666.livejournal.com. KIRI MOTH cover artist, is a San Francisco-based illustrator, knitter, and science geek. Inspired by nature, Art Nouveau, and sci-fi/fantasy artists like Michael Whelan and John Jude Palencar, Kiri has worked on album art, book cover design, and even logos and store murals for an urban bee keeping supply shop. More of her work can be found at her blog, kirimoth.com. JILL BAUMAN interior artist, has been a freelance illustrator/designer for 32 years. In that time she has produced hundreds of covers for horror, mystery, fantasy, science fiction, best-selling books and other products. She has illustrated works by Stephen King, Harlan Ellison, Peter Straub, Lilian Jackson Braun, Charles L. Grant, Robert McCammon, Richard Laymon, Jack Williamson, Hugh B. Cave, Fritz Leiber, Michael Resnick, J. G. Ballard, Stuart O'Nan and Justin Cronin. A duet of introductions by TOM PICCIRILLI (author of twenty novels and winner of two International Thriller Awards and four Bram Stoker Awards) and MICHAEL A. ARNZEN Michael (winner of four Bram Stoker Awards for his often funny, always disturbing horror fiction).