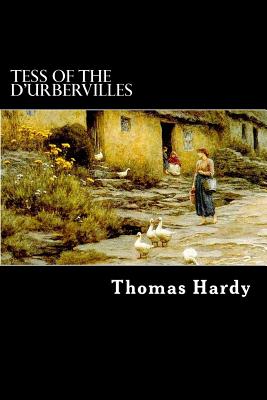 Tess of the d'Urbervilles
Paperback

* Individual store prices may vary.
Other Editions of This Title:
Paperback (10/10/2018)
Paperback (2/26/2020)
Paperback (11/17/2013)
Paperback (1/3/2020)
Paperback (7/15/2020)
Paperback (1/1/2014)
Paperback (1/9/2021)
Paperback (1/9/2021)
Paperback (3/10/2020)
Paperback (6/11/2018)
Paperback (12/9/2019)
Paperback (2/24/2016)
Paperback (4/4/2010)
Paperback (9/26/2019)
Paperback (1/30/2021)
Description
Tess of the d'Urbervilles: A Pure Woman Faithfully Presented, also known as Tess of the d'Urbervilles: A Pure Woman, Tess of the d'Urbervilles or just Tess, is a novel by Thomas Hardy, first published in 1891. It initially appeared in a censored and serialised version, published by the British illustrated newspaper, The Graphic. Though now considered an important work of English literature, the book received mixed reviews when it first appeared, in part because it challenged the established mores of Hardy's day. Thomas Hardy, OM (2 June 1840 - 11 January 1928) was an English novelist and poet. A Victorian realist, in the tradition of George Eliot, he was also influenced both in his novels and poetry by Romanticism, especially by William Wordsworth. While Hardy wrote poetry throughout his life, and regarded himself primarily as a poet, his first collection was not published until 1898. Initially therefore he gained fame as the author of such novels as Far from the Madding Crowd (1874), The Mayor of Casterbridge (1886), Tess of the d'Urbervilles (1891), and Jude the Obscure (1895).
Createspace Independent Publishing Platform, 9781481939584, 570pp.
Publication Date: January 8, 2013