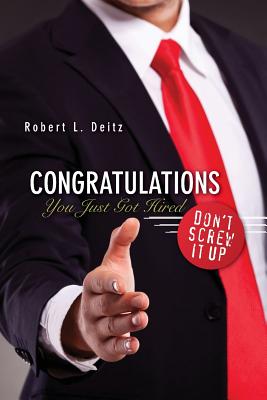 Congratulations -- You Just Got Hired: Don't Screw It Up (Paperback)
Don't Screw It Up
Createspace Independent Publishing Platform, 9781481944298, 44pp.
Publication Date: March 29, 2013
About the Author
The author, Robert L. Deitz, a lawyer, has held senior positions in the private sector, as a litigating partner in private law practice, and in the public sector, as the general counsel of the National Security Agency and as the senior councilor to the Director of the CIA. He is now a professor of public policy at George Mason University's School of Public Policy. In his 35 years in Washington, he has watched the careers of many young professionals blow up for reasons having nothing to do with their academic training or their intellectual acuity. He has seen everything that is set forth in this book. He has even violated some of the rules himself -- to his regret -- over the course of his career. Mr. Deitz graduated from Middlebury College (B.A., cum laude, Phi Beta Kappa, 1968); The Woodrow Wilson School, Princeton University (M.P.A., 1972); and Harvard Law School (magna cum laude, an editor of the Harvard Law Review, 1975). He clerked for Supreme Court Justices Douglas, Stewart, and White. He was a special assistant to the Secretary of the then-Department of Health, Education & Welfare and to the Deputy Secretary of State, both during the Carter Administration.
Advertisement