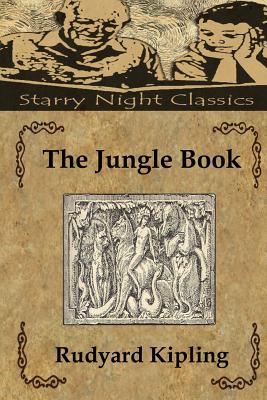 The Jungle Book (Paperback)
Createspace Independent Publishing Platform, 9781481945981, 214pp.
Publication Date: January 9, 2013
Other Editions of This Title:
Paperback (1/19/2015)
Paperback (9/1/2004)
Paperback (2/20/2015)
Paperback (9/2/2014)
Paperback (8/10/2013)
Paperback (3/25/2016)
Paperback (11/23/2015)
Paperback (7/20/2016)
Paperback (4/24/2014)
Paperback (4/4/2010)
Paperback (4/24/2016)
Paperback (1/6/2012)
Paperback (8/12/2012)
Paperback, Large Print (2/21/2015)
Paperback (11/2/2013)
Paperback (10/9/2013)
Paperback (6/25/2014)
Paperback (4/29/2015)
Paperback (11/1/2014)
Paperback (3/23/2016)
* Individual store prices may vary.
Description
Rudyard Kipling's classic tale of Mowgli, the boy raised by wolves in the jungles of India. Mowgli is taught the language and laws of the jungle, with help from Baloo, the bear and Bagheera, the panther. He also has to deal with enemies such as Shere Khan, the tiger and Kaa, the snake. Also included in this book are other classic stories, such as "Rikki-Tikki-Tavi," the heroic mongoose. Join us for the original, timeless adventure.
About the Author
Joseph Rudyard Kipling was born on December 30, 1865 in Bombay, India. He was one of the most famous writers in Great Britain, and was known for his great intelligence, being the first English-language writer and youngest recipient ever to receive the Nobel Prize in Literature in 1907. He and his younger sister, Alice were sent to live in a boarding house with a family named Holloway from 1871 to 1877, and experienced cruelty and neglect. In 1878, Kipling was sent to United Services College to prepare him for the British Army. That didn't work out however, and his father got him a job in Pakistan at a local newspaper, taking nearly a month by ship. Working at the newspaper awakened his writing talents and he began to publish at an amazing pace. In 1889, he was dismissed from the paper and traveled the United States for seven months, ending up in London, where he published his first novel. In 1891, he left to travel the world. Just before returning, he proposed to Caroline Starr Balestier by telegram and they were married on January 18, 1892, in London. They settled in Vermont, where he wrote the two Jungle Books. He became friends with Mark Twain, Arthur Conan Doyle and many others, but still managed to live a fairly private life. In 1896, his wife's brother became violent toward him, and the case drew unwanted publicity, causing the Kiplings to return to England. He encouraged his son to enlist in the British Army during World War I, but he was killed by an exploding shell upon his arrival in France. After that incident, he kept writing, but at a much slower pace, dying of a perforated ulcer on January 18, 1936, in London, at the age of 70.