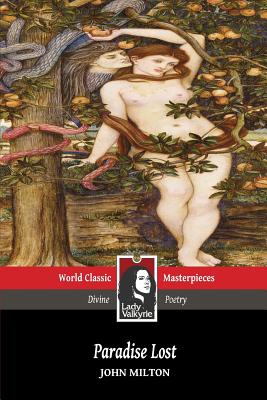 Paradise Lost (Paperback)
Createspace Independent Publishing Platform, 9781482026153, 262pp.
Publication Date: January 19, 2013
Other Editions of This Title:
Paperback (7/18/2012)
Paperback (4/11/2018)
Paperback (7/21/2018)
Paperback (5/29/2008)
Paperback (3/13/2017)
Paperback (5/12/2012)
Paperback (4/7/2018)
Paperback (8/10/2019)
Paperback (4/1/1808)
Paperback (12/7/2019)
Paperback (1/28/2014)
Hardcover (8/21/2015)
Hardcover (8/22/2015)
Hardcover (10/20/2015)
Hardcover, Large Print (8/18/2008)
Hardcover (10/16/2018)
Hardcover (10/23/2017)
* Individual store prices may vary.
Description
In this classic and timeless poem, we encounter an epic and ground-breaking work of poetry written in blank verse during the 17th century. Paradise Lost was originally published in 1667 in ten books, with a total of over ten thousand individual lines of verse. A second edition, published in 1674, divided the poem into twelve books (in the manner of the division of Virgil's Aeneid) with minor revisions throughout. The poem concerns the Biblical story of the Fall of Man: the temptation of Adam and Eve by the fallen angel Satan and their expulsion from the Garden of Eden. Milton's purpose, stated in Book I, is to "justify the ways of God to men." Paradise Lost is widely considered one of the greatest literary works in the English language.
> Visit ladyvalkyrie.com for more Classics as well for Other titles and Series/Categories of books (Gothic, Westerns, Religion, Mysteries, Fiction, Romance, Action, Plays, Sci-fi, poetry, foreign languages, and many more)
> You can also browse our latest offerings at Amazon.com by searching for "lady valkyrie in books.
About the Author
John Milton was an English poet, a polemicist, a scholarly man of letters, and a civil servant for the Commonwealth of England under Oliver Cromwell. He wrote at a time of religious flux and political upheaval. He is best known for his epic poem Paradise Lost. Milton's poetry and prose reflect deep personal convictions, a passion for freedom and self-determination, and the urgent issues and political turbulence of his day. Writing in English, Latin, and Italian, he achieved international renown within his lifetime, and his celebrated Areopagitica is among history's most influential and impassioned defenses of free speech and freedom of the press.