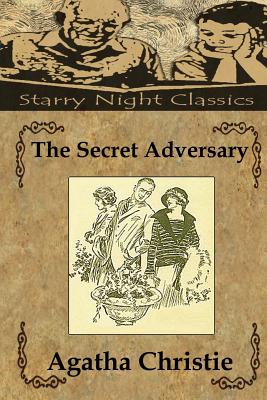 The Secret Adversary
Paperback

* Individual store prices may vary.
Other Editions of This Title:
Digital Audiobook (5/21/2016)
Digital Audiobook (12/15/2020)
Digital Audiobook (3/26/2018)
Digital Audiobook (3/22/2020)
Paperback (9/10/2014)
Paperback (10/14/2020)
Paperback (9/22/2015)
Paperback (10/10/2013)
Paperback (5/13/2013)
Paperback (2/22/2011)
Paperback (6/26/2016)
Paperback (5/14/2012)
Paperback (9/20/2005)
Paperback (2/3/2015)
Paperback (9/22/2020)
Paperback, Large Print (10/11/2007)
Description
Agatha Christie's second classic novel; this one featuring the thrill-seeking duo of Tommy and Tuppence. When the Lusitania is sunk, Top Secret information is supposedly lost, but all is not as it seems. Young Adventurers, Ltd. is contacted by the sinister Mr. Whittington and given an assignment that plunges them onto danger, intrigue and murder. Join us for a suspenseful journey as the fate of an entire nation may hang in the balance.
Createspace Independent Publishing Platform, 9781482042061, 274pp.
Publication Date: January 21, 2013
About the Author
Agatha Christie was born Agatha Mary Clarissa Miller on September 15, 1890 in Torquay, Devon, England to a wealthy family. As the third child in the family, she learned to play the piano and mandolin and became a voracious reader. Her father died when she was eleven from a heart attack, leaving the family financially strained. In 1905, she was sent to a Paris finishing school. In 1910, the family traveled to Egypt for the warmer climate, and Agatha began her search for a husband and also began to write her first novel, which was refused by various publishers. She met Archibald Christie in 1912 and they were married in 1914 at the outbreak of World War I. They had one child; a daughter. Archie, in the air force, was sent to France to fight the Germans, eventually rising to the rank of colonel. Agatha spent thousands of hours volunteering in hospitals to support the war effort. After the war, Archie returned home and Agatha wrote her first mystery novel, "The Mysterious Affair At Styles," in 1920, introducing the world to detective Hercule Poirot. In 1922, she followed that with her second novel, "The Secret Adversary," which earned her less than $100. In 1923, Agatha and her husband went on a world tour to promote a "British Empire Exhibition" and became some of the first people to surf standing up. In 1926, Archie admitted to an affair and asked for a divorce. At that time, Agatha disappeared for ten days, prompting a massive manhunt. Although she turned up ten days later, it was never revealed where she had been. In 1930, Agatha married her second husband, Max Mallowan, which lasted the rest of her life. During World War II, she again volunteered in hospitals, which gave her a knowledge of poisons that she used in her stories. In 1971, she became a Dame Commander of the Order of the British Empire, and Max was knighted for his work in archaeology. Agatha died on January 12, 1976, at the age of 85, in Wallingford, Oxfordshire, England, from natural causes. During her life, she wrote 66 detective novels, 15 short story collections, 6 romances under the name Mary Westmacott, and "The Mousetrap," the world's longest-running play. It began running in 1952, and after 25,000 performances, is still going. According to the Guinness Book of World Record, she is the best-selling novelist of all time, having sold nearly four billion copies in 103 languages.