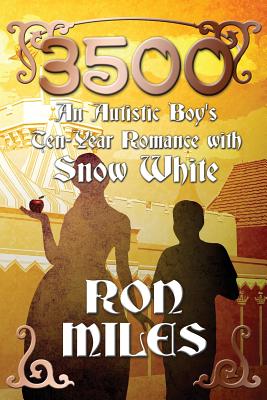 3500 (Paperback)
An Autistic Boy's Ten-Year Romance with Snow White
Createspace Independent Publishing Platform, 9781482093308, 248pp.
Publication Date: February 11, 2013
* Individual store prices may vary.
Description
Benjamin, a nine-year-old autistic boy with a love of Disney, was taking his first trip to Walt Disney World. The last thing his parents expected was to see him come alive.
What followed was a remarkable tale of inspiration, heartbreak, dedication and joy as Benjamin's family relocated from Seattle to Orlando in order to capture that magic and put it to practical use. Amidst the daily challenges of life for an autistic child, Benjamin's passion for one particular theme park attraction would lead his family on a breathtaking journey of hope and discovery.
How many rides does it take for an ending to become a new beginning?
Cory Doctorow
, New York Times best-selling author of
Homeland
,
Little Brother
, and
Down and Out in the Magic Kingdom
writes:
"
Brimming with heart and tragedy overcome
, this is a book that captures the tribulations of parenthood, the magic of Disney World, and the wonderful online communities that allow us to lend aid and comfort to strangers around the world."
Kevin Yee
, author of
Epcot: The First Thirty Years: An Unofficial Retrospective
, and
Walt Disney World Hidden History: Remnants of Former Attractions and Other Tributes
writes:
"
...it's a good book, the kind all of us should be reading
. It's the kind of book that transcends its supposed subject matter and becomes about everything else that matters in life and love; the kind of book that makes you better for having read it. Above all, it's a book that addresses emotions straight on. The father's emotions, Ben's emotions, and even our own emotions as readers...
...Ben's final ride is a touching one that resonates deeply of parental anguish and reward. I won't spoil the details for you, but you should seek it out.
About the Author
Ron Miles is the proud father of an autistic son, a software architect, and a musician. Born and raised in the Pacific Northwest, Ron moved (along with his ex-wife, son, and then-fiance) to Central Florida in the summer of 2003 in order to use Walt Disney World as a giant therapy session for his son. He blogs about his son and other autism-related issues at shmoolok.com. He also runs a website dedicated to post-apocalyptic fiction at www.JamesAxler.com, as well at least a dozen other websites. In his day job he works from a home office and writes the software that drives the Conferences & Events department of a luxury travel company. He dreams of the day when he will finally be able to have a real conversation his son, if only to find out what his son has really been thinking about all these years."