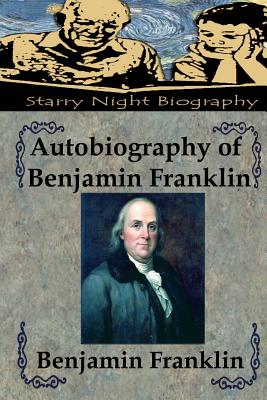 Autobiography of Benjamin Franklin
Paperback

* Individual store prices may vary.
Other Editions of This Title:
Paperback (4/30/2014)
Paperback (7/6/2018)
Paperback (9/8/2010)
Paperback (5/17/2017)
Paperback (5/11/2012)
Paperback (2/8/2015)
Paperback (4/25/2016)
Paperback (9/1/2014)
Paperback (1/26/2018)
Paperback (7/3/2011)
Paperback (10/13/2018)
Paperback (1/23/2015)
Paperback (2/1/2012)
Paperback (11/6/2011)
Paperback (12/13/2013)
Paperback (5/4/2015)
Paperback (6/23/2014)
Paperback (11/2/2016)
Paperback (3/30/2014)
Description
This classic, historical memoir, by one of America's great Founding Fathers, is considered one of the most popular works of American literature, definitely one of the most important autobiographies ever written. This is a self-portrait of Benjamin Franklin, in his own words, from his boyhood years, to his days as a printer, politician and scientist. Written from 1771 to 1790, just before his death, this will definitely give the reader a glimpse into the life of one of history's most fascinating individuals.
Createspace Independent Publishing Platform, 9781482341027, 280pp.
Publication Date: February 1, 2013
About the Author
Benjamin Franklin was born on January 17, 1706. He was one of the Founding Fathers of the United States, but also a printer, politician, postmaster, scientist, inventor, diplomat, founder of a university, fire department and author. He died in 1790.