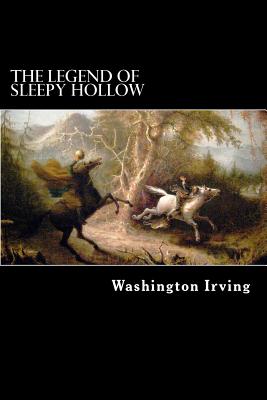 The Legend of Sleepy Hollow
Paperback

* Individual store prices may vary.
Other Editions of This Title:
Paperback (6/13/2017)
Paperback (2/20/2020)
Paperback (6/3/2017)
Paperback (2/1/2019)
Paperback (3/17/2007)
Paperback (9/23/2015)
Paperback (9/12/2008)
Paperback (12/5/2011)
Paperback (11/5/2015)
Paperback (11/27/2017)
Paperback (8/8/2018)
Paperback (11/23/2015)
Paperback (2/14/2020)
Paperback (9/1/2004)
Paperback (1/3/2019)
Paperback (11/4/2018)
Paperback (9/29/2010)
Paperback (4/20/2013)
Paperback (4/22/2015)
Description
"The Legend of Sleepy Hollow" is a Halloween-themed short story by Washington Irving contained in his collection The Sketch Book of Geoffrey Crayon, Gent., written while he was living in Birmingham, and first published in 1820. With Irving's companion piece "Rip Van Winkle", "The Legend of Sleepy Hollow" is among the earliest examples of American fiction still read today. Washington Irving (April 3, 1783 - November 28, 1859) was an American author, essayist, biographer, historian, and diplomat of the early 19th century. He is best known for his short stories "The Legend of Sleepy Hollow" and "Rip Van Winkle". His historical works include biographies of George Washington, Oliver Goldsmith and Muhammad, and several histories of 15th-century Spain dealing with subjects such as Christopher Columbus, the Moors, and the Alhambra. Irving served as the U.S. ambassador to Spain from 1842 to 1846.
Createspace Independent Publishing Platform, 9781482627893, 42pp.
Publication Date: February 24, 2013