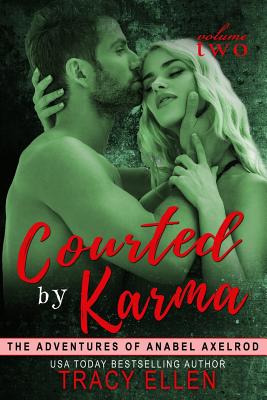 Courted by Karma (Paperback)
The Adventures of Anabel Axelrod
Createspace Independent Publishing Platform, 9781482738094, 238pp.
Publication Date: March 10, 2013
* Individual store prices may vary.
Description
"Courted by Karma" is the second exciting volume in the ongoing series "The Adventures of Anabel Axelrod" Anabel Axelrod is back...and so is Luke Drake. Courted by Karma picks up right where we left off with the doorbell buzzing...First it was Her Turn. Now it is His Turn. Anabel's life was sizzling before, but now its on fire Can she handle the heat? After her last crazy few days, Anabel's hell bent on having nothing but a good time during the traditional upcoming Axelrod Women Weekend. Cousin Layla and some friends are flying in from Florida for a visit. Despite Chief Jack's warning not to call him this year if they end up in jail again, the women plan to rock the town But first our girl must survive some Russians, some Mexicans, some Parents, Thanksgiving, and Anabel's hottest challenge ever...Luke Drake. And Mr. Secretive has plans of his own. Will it ever be Our Turn for Luke and Anabel, or is it her karma to get burned by the smokin' hot flames? Author's note: This ongoing series was written for the enjoyment of adults and should be read in order for the most pleasurable reading experience. A Date with Fate (Vol I) Courted by Karma (Vol II) In Love by Design (Vol III) Adieu to Destiny (Vol IV) Family & Fortune (Vol V) Come sign up for my fun newsletter on my website. Website: www.tracyellenink.com email: tracy@tracyellenink.com Twitter: TracyEllen01.
About the Author
About Tracy Ellen... I was born in Indiana to middle-class parents, the third out of five hellions. I often used my supernatural powers to force my family members to listen to me talk and tell stories. When they laughed of their own free will, I knew the world would someday, somehow be my stage. I've lived in the Midwest my whole life--in a small town, on a farm, and in the big city. Currently, I live in the suburbs of St Paul, Mn. with my family. I'm married and still tormenting the man I started stalking at age seventeen. Luckily, I'm speaking about the same man. The historical town of Northfield featured in Anabel's Adventures is just down the road a jaunt. I like writing about the values and independent spirits of people found in small town living, but with a definitely modern twist. And then there's my twisted sense of humor...