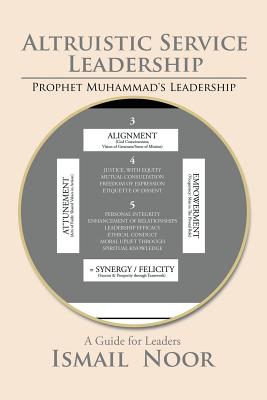 Altruistic Service Leadership
Prophet Muhammad's Model
Paperback

* Individual store prices may vary.
Other Editions of This Title:
Hardcover (9/30/2015)
Description
Now more than ever, altruistic approaches to leadership are needed in business, industry, government, and in the community to help foster and promote peace, moderation, and goodness for all humankind. In one of the first books ever written on the altruistic service aspects of Prophet Muhammad's leadership, author Ismail Noor provides an easy-to-read, diligently researched, and time-tested approach that has been presented and shared with live audiences in conferences, training sessions, and workshops at all levels. Ismail Noor's penetrative insight into Prophet Muhammad's leadership thrust in the Arabian Peninsula is well-researched and well-tested. Having himself used his written material in conferences, seminars, and workshops throughout the region, his contribution to the development of leadership competency among executives and managers in the public, private, and institutional sectors has been admirable. This book is certainly useful as a compendium guide for all leaders, based on the Prophet of Islam's universal model.-Professor Datuk Dr. Abdul Jamil bin Mukmin, Chairman, Malaysian Institute of Historical and Patriotism Studies This guidebook on altruistic service leadership is timely and relevant for twenty-first century leaders at all levels. In an era where leadership is oftentimes fraught with pretensions, hypocrisy, and blameworthiness, it is heartening to be guided by a book for leaders of multi-type organizations and entities, benchmarked on the altruistic leadership model of the Prophet Muhammad.-Dr. Ron Liamsi, Director, Ar-Rashidin Centre for Leadership and Followership, Kuala Lumpur, Malaysia.
Partridge Singapore, 9781482853162, 192pp.
Publication Date: September 30, 2015