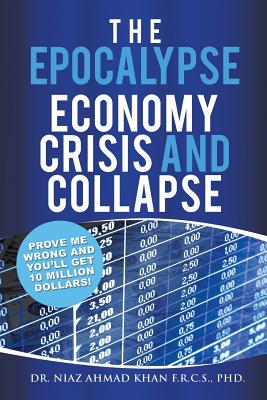 The Epocalypse
Economy Crisis and Collapse
Paperback

* Individual store prices may vary.
Other Editions of This Title:
Hardcover (12/19/2016)
Description
There's an old saying: Nothing is certain but death and taxes. But Niaz Ahmed Khan, Ph.D., begs to disagree.
Khan presents a plan for a mutual benefit bond system that would liberate people everywhere from the burden of paying taxes in this revolutionary book.
Not only would the plan solve the problem of poverty, it would also eliminate government debt on a massive scale. Khan's plan would collect more revenue than annual budgets in as little as thirty days--all without requiring people to pay taxes.
A mutual benefit bond system would also reduce inflation, trigger a new industrial revolution and slash the cost of living in half. It would usher in a new era of interest-free banking, eliminate terrorism, and eradicate drug abuse.
Mainstream economists claim that none of this can be done, but these are the same people that want to keep taking your hard-earned money.
Find out how we can eliminate taxes while making the world a better place with a mutual benefit bond system that would reverse the world recession.
Partridge Singapore, 9781482881769, 124pp.
Publication Date: December 19, 2016