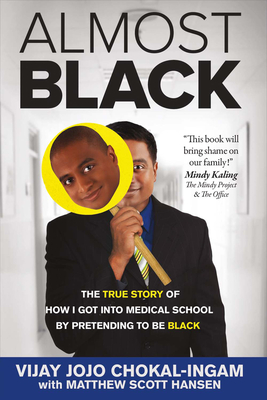 Almost Black (Paperback)
The True Story of How I Got Into Medical School By Pretending to Be Black
BookBaby, 9781483576046, 352pp.
Publication Date: September 13, 2016
* Individual store prices may vary.
Description
I got into medical school by saying I was black. I lied. Honestly, I am about as black as my sister Mindy Kaling (The Office / The Mindy Project).Once upon a time, I was an ethically challenged, hard-partying Indian American frat boy enjoying my third year of college. That is until I realized I didn't have the grades or test scores to get into medical school. Legitimately. Still, I was determined to be a doctor and discovered that affirmative action provided a loophole that might help. The only problem? I wasn't a minority. So I became one. I shaved my head, trimmed my long Indian eyelashes, and applied as an African American. Not even my own frat brothers recognized me. I joined the Organization of Black Students and used my middle name, Jojo.Vijay, the Indian American frat boy, became Jojo, the African American affirmative action applicant.Not everything went as planned. During a med school interview, an African American doctor angrily confronted me for not being black. Cops harassed me. Store clerks accused me of shoplifting. Women were either scared of me or found my bald black dude look sexually mesmerizing. What started as a scam to get into med school turned into a twisted social experiment, teaching me lessons I would never have learned in the classroom.I became a serious contender at some of America's greatest schools, including Harvard University, Washington University, University of Pennsylvania, Case Western Reserve University, George Washington University, University of Pittsburgh, Yale University, University of Rochester, University of Nebraska Omaha, and Columbia University. I interviewed at 11 schools while posing as a black man. After all that, I finally got accepted into medical school.Almost Black combines the comic tone of 1986's Soul Man, starring C. Thomas Howell, Rae Dawn Chong, and James Earl Jones, with the deeply poignant observations of Black Like Me, John Howard Griffin's classic.Resembling a mashup of the two works (but far more humorous), the hedonistic frat boy discovered something far more than what he'd bargained for while posing as a black man: the seriousness, complexities, and infuriating injustice of America's racial problems. In Black Like Me, Griffin was a white man posing as a black man in the American South, prior to the Civil Rights Act of 1964. I wasn't on some intense social mission like he was, but just as Griffin did, I came away changed.Before I finished this book, I stirred a hornet's nest by telling the story. It has been featured in more than 100 media outlets, including CNN, ABC, NBC, FOX, TIME, The Guardian, National Review, Washington Post, Salon, Gawker, VOX, VICE, Complex, Buzz Feed, Huffington Post, Daily Mail, and Perez Hilton. Many loved it, but not everyone approved of what I did. My college classmate, Tucker Max (I Hope They Serve Beer in Hell), disapproved. My sister Mindy Kaling furiously declared, "This book will bring shame on our family!" I disagree but I'll let you be the judge.
About the Author
Originally from the Northwest, Matt received his Communications BA from Washington State University. He entered the advertising field, first as an account executive, then as a creative director. He left advertising to pursue a career in radio and television. In Seattle, Matt co-created, produced and syndicated a radio comedy series, Radio Free Comedy. Moving to Los Angeles, Matt worked various jobs in entertainment, including developing a TV comedy series for Norman Lear, a sitcom for the Carsey-Werner Company, and producing a comedy show at Fox Television. He was also hired to write and rewrite features and television screenplays for various production companies. Matt worked as the personal script doctor to two high level television producers, rewriting their scripts and helping develop pilots for them. They produced long running shows for ABC and had a pilot development deal at NBC.Writing comedy feature specs, Matt and his partner made seven-figure sales to Barry Levinson and Paula Weinstein's Spring Creek Productions at Warner Bros. (Pest Control) and Tom Shadyac's Shady Acres Entertainment at Universal (Cross Dressing). The novelized version of Pest Control (published by Avon and Wm. Morrow and more than ten foreign publishers) has become a bestselling novel, a stage play, and a radio comedy play. Of their comedy spec, Heartless, their management team at Brillstein-Grey said "it was one of the funniest scripts they had ever seen." The script became a novel, Heart Seizure, (published by Wm. Morrow).When offered the opportunity to write books, Matt segued into the publishing industry. All of Matt's book proposals have sold for at least six figures, including one to Bantam for $600,000. His 1999 book, Andy Kaufman Revealed! (published by Little, Brown and a number of foreign publishers) was a bestseller and the basis for the film Man On The Moon, starring Jim Carrey. The Hollywood Reporter called the book, "hilarious, eminently readable, and perhaps the funniest book about a Hollywood performer's career."As an author, Matt has had publishing deals with many major US publishers, including Simon & Schuster, Avon, Dove, Harper Collins, Reganbooks, Little, Brown, Bantam, William Morrow, and more than 25 foreign houses. Matt added ghostwriting to his resume, completing a true-life thriller for a Russian/Uzbeki investment group, as well as a book about a little known chapter of Marilyn Monroe's life, published by Createspace and sold by Amazon Digital Services. Matt is in production of No Fall Zone, the memoir of extreme skier and commodities guru, Olav Ruud. The Marilyn Monroe book was recently chosen by a prestigious book list as being one of the "20 Best Books on Marilyn Monroe."Matt has also written books about NBA legend Dennis Rodman (Worse Than He Says He Is, for Dove Publishing/now Newstar Media--written under pseudonym Alexander Scott), music and television impresario Bob Eubanks (It's In The Book, Bob, published by Benbella Books), and the Enron Corporation (House of Cards: Confessions of An Enron Executive, originally Harper Collins-Reganbooks, now Authorhouse). Billionaire investor Warren Buffet was so impressed with the Enron book he bought 300 copies for friends and associates.Matt is currently under contract writing the memoir of a world-renowned shoe designer. He is also in the process of writing or marketing two other non-fiction book proposals for clients. Additionally, he just finished another work of fiction, and is writing a new thriller novel for his agent, Jill Marr of the Sandra Dijkstra Literary Agency.Matt is working with a London production company to sell his crime drama television series, Illegal. He also has other projects he is shopping, including the feature screenplay to a high concept action thriller. He is exploring finance options to produce the film version of his 2007 horror thriller, The Shadowkiller, published by Simon & Schuster.