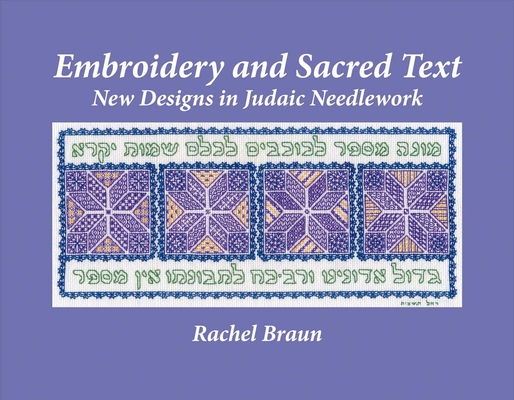 Embroidery and Sacred Text
New Designs in Judaic Needlework
Paperback

* Individual store prices may vary.
Description
Embroidery and Sacred Text introduces nineteen new designs in Judaic and Biblical embroidery, in stunning photographs of Rachel Braun's original and colorful needlework. The author has embellished sacred texts from liturgy, piyyut (prayerful poetry) and Bible in creating her designs, in embroidery canvasses stitched in 'blackwork' embroidery technique. Erudite and insightful commentary accompanying each piece adds a spiritual dimension for appreciating the designs and for understanding the associations of sacred text and art. In addition, Rachel shares forty embroidery motifs for fellow needle artists to incorporate in their own projects, along with ten new embroidery alphabets for Hebrew and English lettering. A chapter explaining the mathematical considerations in embroidery design provides clear, accessible explanations of how geometric and algebraic factors underlie the shape of the embroidery patterns.
BookBaby, 9781483585000, 82pp.
Publication Date: December 4, 2016
About the Author
Some twenty years ago, Rachel Braun began to explore ways that Jewish texts could be embroidered – literally and figuratively – in original needlecraft designs. During a sabbatical year from her career as a high school mathematics and statistics teacher, she collected her work and thoughts in this volume. Her many talents – artistic, spiritual, and mathematical – come together in this work. Rachel's embroidery canvases have hung in many venues, including libraries and places of worship. In 2014, her embroidery Bamidbar: In the Wilderness was selected for display in the juried exhibit accompanying the American Mathematical Society's special session on mathematics and fiber arts. Rachel lives in the Washington, DC area with her husband, Steven. Together, they raised four children who have become passionate and adventurous young adults. In addition to her mathematical undertakings, Rachel is a synagogue service leader, Torah chanter, and Jewish educator. Fun fact: she holds a Guinness Book of World Records certificate for the largest graph paper collection in the world, with more than 750 distinct sheets. Visit www.rachelbraun.net to learn more about her embroidery designs and to read her blogposts about Torah, graphs, and graph paper.
or
Not Currently Available for Direct Purchase