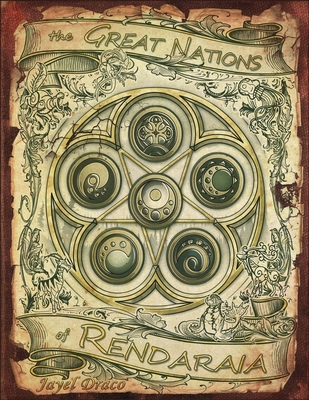 The Great Nations of Rendaraia (Children of Gaia #1)
Paperback

* Individual store prices may vary.
Description
Rendaraia is a realm where nature, magic, and civilization have long lived in harmony. Its five Great Nations stood for centuries as strongholds of culture, magic, science, and military strength. When, one by one, the Nations fall—each destroyed in a day, with no time for word or warning—the intrepid scholar Jan'Ka'Zian sets out to record a complex network of intertwined cultures on the edge of oblivion. From mighty airships powered by bioluminescent microorganisms to a city of gleaming towers built around colossal trees, the Great Nations of Rendaraia are rendered as part of a fully realized fantasy world as complex and inventive as those of Tolkien and Lewis. Jayel Draco's gorgeous illustrations present a vivid picture of elaborate cityscapes and mountain vistas, vast sky- and seafaring fleets, and fantastic flora and fauna.

While epic in its own right, Jan'Ka'Zian's tragic story is just one small thread in a larger universe of Children of Gaia, in which the destruction of the Great Nations is an early sign that Rendaraia is under attack from brutal and mysterious invaders from a land called Terra, an imperial society driven by its own rapacious needs and the demands of its politically divided home. As war rages, hundreds of cultures of wildly varying technologies, traditions, and species fight to preserve their way of life. But Rendaraia and Terra are linked more deeply than anyone had ever imagined...
BookBaby, 9781483597423, 150pp.
Publication Date: May 1, 2017
About the Author
Jayel Draco is a multimedia visual artist from New York City. The world of Children of Gaia (COG) is the result of his decades-long collaboration with fellow artist Chris Covelli, which began shortly after they first met in seventh-grade social studies class in 1994. Since then, the desire to bring COG to life has guided his career as an artist, fueling his dedication to honing his creative skills. In 2003, he earned his BFA in Illustration from the School of Visual Arts in New York City, later branching out into animation, costume and prop design, photomanipulation, motion graphics, and VFX. During his time as a freelance artist, Jayel's fashion designs have been featured at trade shows including Project and Pool, and his animation work has appeared in Marvel's Astonishing X-Men at MarvelFest New York City and in Wagner's Die Walküre at the New York Metropolitan Opera. For several years he worked under the close tutelage of renowned comic book artist Neal Adams. In 2014, Jayel teamed up with writer Lynsey G to found Oneshi Press, an independent publishing company dedicated to bringing immersive graphic storytelling projects to life. Today, Jayel lives and works in Missoula, Montana, where he can generally be found living in harmony with the wildlife, enjoying a beer from a local microbrew, and immersed in his artwork.

For more info about Oneshi Press - who we are, what we do, and our upcoming projects - visit www.oneshipress.com
or
Not Currently Available for Direct Purchase