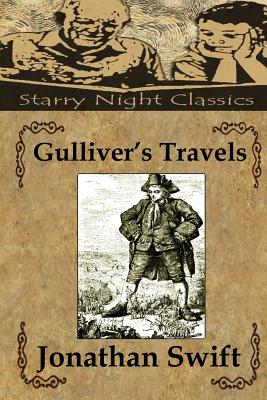 Gulliver's Travels
Paperback

* Individual store prices may vary.
Other Editions of This Title:
Paperback (9/1/2014)
Paperback (4/26/2014)
Paperback (1/28/2019)
Paperback (2/22/2012)
Paperback (11/7/2012)
Paperback (10/5/2008)
Paperback (12/29/2013)
Paperback (12/17/2010)
Paperback (11/3/2012)
Paperback (7/18/2018)
Paperback (6/22/2014)
Paperback (7/30/2010)
Paperback (8/11/2011)
Paperback (5/18/2014)
Paperback (10/4/2008)
Paperback (9/1/2004)
Paperback (5/26/2014)
Paperback (11/29/2011)
Paperback (6/12/2012)
Description
Lemuel Gulliver dreams of sailing the seas and leaves his family behind, but he never imagines the places he will discover. Join us as Gulliver travels to four amazing lands, facing giants, tiny people, floating cities and many other strange beings, such as the horse-like Houyhnhnms. Will he survive and return home to tell his tales?
Createspace Independent Publishing Platform, 9781483950037, 310pp.
Publication Date: March 24, 2013
About the Author
Jonathan Swift was born on November 30, 1667, in Dublin, Ireland, the second child and only son in the family. His father died before he was born and his mother moved to England. His family was related to Sir Walter Raleigh and William Shakespeare. Left in the care of his wealthy Uncle Godwin, he was sent to Kilkenny College and then Dublin University. Later, his mother helped him get a job as an assistant of Sir William Temple, who sent him to London to meet with King William III. Jonathan earned his Master's Degree in 1692 from Oxford, then left to become an ordained priest. He proposed to a woman named Jane Waring, but she refused him and he returned to work with Temple, who died in 1699. It is rumored that Swift was married to Esther Johnson in 1716, but she was 16 years younger than him and it has never been proven. In 1704, he began to develop a reputation as a writer, also becoming politically active. It was in 1726, that Swift published "Gulliver's Travels," which became an instant hit, with multiple printings. In 1742, he suffered a stroke losing the ability to speak, and began to go insane. Swift died on October 19, 1745, at the age of 77, in Dublin. There was a public viewing for the people of Dublin and he was buried in his own cathedral next to Esther. Most of his fortune went to found a hospital for the mentally ill. It opened in 1757 and still exists today.