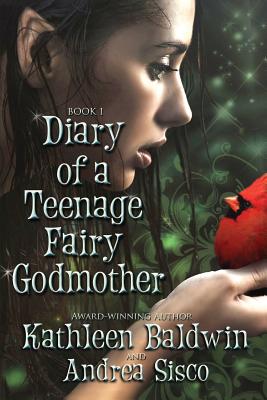 Diary Of A Teenage Fairy Godmother
A Contemporary Teen Fantasy Romance
Paperback

* Individual store prices may vary.
Description
Award-winning author Kathleen Baldwin teamed up with actress mystery writer Andrea Sisco to write a fun contemporary YA fairytale, an adventure suitable for any age. This teen fantasy romance contains strong emotions, some kissing, but no sex. "...a story that girls and women of all ages can love ... a magical world you want to explore even after this story has ended." -Bestselling Author, Suzanne Ferrell, 5 stars *Diary of a Teenage Fairy Godmother* A Fairy Godmother is not some overgrown pixie in a pink tutu. She's a guardian and a warrior specially trained to protect Cinderella's descendants. Lilliana Skye is undercover at a Texas high school on her first assignment to save one of Cinderella's troubled great-granddaughters. But everything goes terribly wrong. Who wouldn't want their very own Fairy Godmother? Jess Harrison, that's who. She doesn't believe in fairytale magic or happily-ever-afters. The death of her oldest brother nuked her world. Grief sucks. Jess is tough, angry, and so intelligent it's scary. If she ever did see a mythical fairy she would probably stomp it into oblivion with her army boots. Fortunately Jess has another brother, but when Jake meets the new girl he falls hard. In Jess's universe that means trouble. Her shields go up. Code red. Weapons loaded. Their oldest brother's tragic accident turned Jess and Jake's parents into emotional zombies. They avoided grieving and buried themselves in work. Jake is the only real family Jess really has left and she's fiercely protective. She can't let her brother fall in love with a dangerous lunatic who claims to be a Fairy Godmother. That's fine with Lilliana. Falling in love with a human is forbidden, not to mention ... deadly. And maybe, just maybe, if she didn't have to protect Jake and Jess she might be able to keep her wayward heart in check. But someone from the fairy realm is trying to kill all three of them and Lilliana has to find out why before it's too late. _"I was hooked. This is a fast, fun read with more than enough world-building for fantasy fans" -Yvonne, 5 stars_ _"I liked the fantasy mixed with high school angst in this romance/action blend." - PA, 5 stars_ *Book Club Discussion Guide: * Available on Author Kathleen Baldwin's website. AUTHORS' NOTE: This book is suitable for girls, women, guys, anyone who loves a modern fairytale. The two of us are particularly fond of the YA fairytales by amazing authors: Shannon Hale, Gail Carson Levine, Marissa Meyer, and Diana Wynne Jones. But our book is a magical adventure that takes place right here, right now, in our world. We set this book in a contemporary world because we believe there is a kind of magic all around us, inside each of us, just waiting to be revealed. Diary of a Teenage Fairy Godmother is a paranormal tale of finding hope, discovering truth, and learning to love. _"I love this book so much I didn't want it to end." Dancer Girl, 5 stars_ Dancer Girl, please contact us. We want to send you a prize for being our all time favorite review. Short, sweet, and perfect, your words made so happy we twirled for joy.
Createspace Independent Publishing Platform, 9781484038918, 304pp.
Publication Date: April 3, 2013
About the Author
Kathleen Baldwin is an award winning author and illustrator. Her Regency romantic comedies have garnered critical praise and multiple awards. Andrea Sisco is cozy mystery author, actress, and all around fun person. Andrea acted out this story and Kathleen wrote it down.