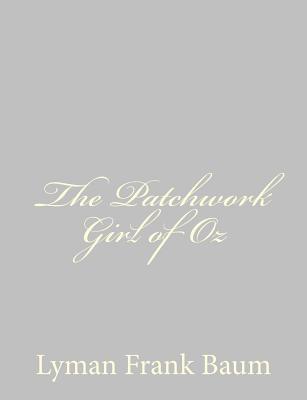 The Patchwork Girl of Oz
Paperback

* Individual store prices may vary.
Other Editions of This Title:
Paperback (8/31/2012)
Paperback (3/14/2013)
Paperback (5/1/2012)
Paperback (2/22/2020)
Paperback (10/22/2020)
Paperback (2/5/2021)
Paperback (9/25/2019)
Paperback (2/5/2021)
Paperback (1/8/2021)
Paperback (2/22/2020)
Paperback (11/13/2017)
Paperback (2/7/2021)
Paperback (9/17/2020)
Paperback (4/4/2020)
Description
Lyman Frank Baum's classic Original Oz Series comes to life with the illustrations of Jamie Shiu in this Theophania Publishing reprint. Inspired by the fantastic imagery in this brilliant series, Jamie has crafted over 140 images for this book series. If you haven't read this series before, be in for a treat as the characters take on a new life under Jamie's excellent illustrations. If you are returning to Oz, savour the stories again with this newly released edition. Join Dorothy Gale, the Cowardly Lion, the Tin Woodman, and the Scarecrow, among many other fabulous and excellent characters in the Land of Oz There are fifteen books in this series: Volume 1 The Wonderful Wizard of Oz Volume 2 The Marvelous Land of Oz Volume 3 Ozma of Oz Volume 4 Dorothy and the Wizard of Oz Volume 5 The Road to Oz Volume 6 The Emerald City of Oz Volume 7 The Patchwork Girl of Oz Volume 8 Tik-Tok of Oz Volume 9 The Scarecrow of Oz Volume 10 Rinkitink in Oz Volume 11 The Lost Princess of Oz Volume 12 The Tin Woodman of Oz Volume 13 The Magic of Oz Volume 14 Glinda of Oz The Oz Coloring Book: A companion to the Original Oz Collection.
Createspace Independent Publishing Platform, 9781484074862, 194pp.
Publication Date: April 9, 2013