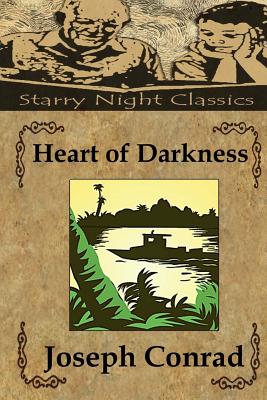 Heart of Darkness (Paperback)
Createspace Independent Publishing Platform, 9781484077436, 130pp.
Publication Date: April 8, 2013
Other Editions of This Title:
Paperback (9/1/2013)
Paperback (7/30/2008)
Paperback (11/6/2015)
Paperback, Large Print (9/10/2015)
Paperback (1/15/2010)
Paperback (11/2/2006)
Paperback (11/17/2018)
Paperback (7/30/2008)
Paperback, Large Print (12/22/2005)
Paperback (12/11/2015)
Paperback (10/11/2012)
Paperback (3/13/2014)
Paperback (12/23/2013)
Paperback (4/9/2015)
Paperback (5/19/2016)
Paperback (11/22/2011)
Paperback (7/26/2015)
Paperback (3/26/2016)
Paperback (6/29/2015)
* Individual store prices may vary.
Description
Long considered to be one of the twentieth century's most enduring works of fiction, this is the thrilling tale of a wandering seaman's journey in search of an infamous ivory trader, who has gained power over the local population. Eventually, he becomes obsessed with this individual as he voyages along the Congo River. Join us for a classic story of psychological nuance and the condemnation of imperialism in Joseph Conrad's masterpiece, "Heart of Darkness.
About the Author
Joseph Conrad was born Jozef Teodor Konrad Korzeniowski on December 3, 1857 in Berdychiv, Kiev, Russia, which is now part of the Ukraine, although he is considered Polish. He was an only child. His family called him "Konrad." His father, Apollo, was a writer and revolutionary and in 1861, they moved to Warsaw so he could participate in the resistance against Russia. In 1862, the family was exiled to an unhealthy climate. They returned in 1865, but Conrad's mother died from tuberculosis. His father attempted to educate him, but he also died from tuberculosis, leaving him orphaned at age eleven. He went to live with his mother's brother, but he developed a nervous disorder and was a poor student. Then, he was sent to live with a cousin in an orphanage in 1873 for ten months until he left for France and a career at sea. After four years on French ships, he joined the British Merchant Marine for fifteen years, giving him the inspiration for many of his stories and characters. Poor health forced Joseph to give up the sea in 1894, and he began writing novels under the name Joseph Conrad. Surviving on loans, it wasn't until 1913 that his work began to find an audience. He also began writing in English, which he had only picked up in his twenties. Throughout his life, Conrad suffered from depression, attempting suicide in 1878, gout, his hands so swollen that writing was difficult, and a fear of dentistry, causing the loss of most of his teeth. In 1896, he married Jessie George and they had two boys. Conrad died on August 3, 1924, from a heart attack, at the age of 66, in Bishopsbourne, England. He is buried in Canterbury Cemetery, in Canterbury, England.