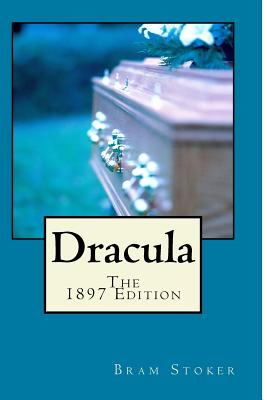 Dracula (Paperback)
Createspace Independent Publishing Platform, 9781484100523, 362pp.
Publication Date: April 11, 2013
Other Editions of This Title:
Paperback (5/25/2015)
Paperback (9/17/2015)
Paperback (5/14/2015)
Paperback (12/2/2014)
Paperback (7/8/2015)
Paperback (12/3/2014)
Paperback (9/30/2014)
Paperback (2/15/2015)
Paperback (2/27/2010)
Paperback (8/9/2010)
Paperback (6/13/2013)
Paperback (4/7/2015)
Paperback, Spanish (10/29/2011)
Paperback (10/19/2015)
Paperback (4/26/2015)
Paperback (7/4/2013)
Paperback, Spanish (6/13/2013)
Paperback (4/28/2015)
Paperback (12/11/2013)
* Individual store prices may vary.
Description
Dracula (1897) By Bram Stoker Jonathan Harker is a newly qualified solicitor en route to Transylvania to give advice to Count Dracula on a real estate deal. Instead, Harker becomes his prisoner and witness to the Count's disturbing nocturnal life. Harker soon falls under the spell of "the Sisters" - three female vampires - but eventually escapes. Shortly afterward, a Russian ship runs aground in England but all of its crew are missing. The captain's log describes their tumultuous journey and a strange cargo from Transylvania. When Harker arrives home, he finds he must once again face Dracula and his blood lust.
About the Author
About The Author Irish writer Abraham -Bram- Stoker (1847 -1912) was a novelist and short story writer best known for his 1897 horror classic Dracula. During his lifetime, he was known as the assistant of actor Henry Irving and manager of the Lyceum Theatre in London.He was born on the north side of Dublin, Ireland, the third of seven children. He was an ill child, bedridden until he started school at the age of seven, but he recovered completely. He excelled as an athlete at Trinity College, Dublin, and graduated with honours as a B.A. in Mathematics. He was president of the University Philosophical Society, where his first paper was on Sensationalism in Fiction and Society. Stoker became a theatre critic for the Dublin Evening Mail, co-owned by the author of Gothic tales Sheridan Le Fanu. In December 1876, he gave a favourable review of Henry Irving's Hamlet at the Theatre Royal in Dublin. Irving invited Stoker for dinner and they became friends. Stoker also wrote stories, and -The Crystal Cup- was published by the London Society in 1872, followed by -The Chain of Destiny- in four parts in The Shamrock. In 1876 while a civil servant in Dublin, Stoker wrote the non-fiction book The Duties of Clerks of Petty Sessions in Ireland (published 1879). Dracula is an epistolary novel, fictional diary entries, telegrams, letters, ship's logs, and newspaper clippings, adding detailed realism to the story. Dracula was considered a -straightforward horror novel- based on imaginary creations of supernatural life, but the Encyclopedia of World Biography says Stoker's stories are today included in the categories of -horror fiction-, -romanticized Gothic- stories, and -melodrama.- They are classified alongside Mary Shelley's Frankenstein, The original 541-page typescript of Dracula was found in a barn in northwestern Pennsylvania in the early 1980s.It consisted of typed sheets with many emendations, plus handwritten on the title page was -THE UN-DEAD.- The author's name was shown at the bottom as Bram Stoker. Stoker's inspirations for the story, may have included a visit to Slains Castle in Aberdeenshire, a visit to the crypts of St. Michan's Church in Dublin, and the novella Carmilla by Sheridan Le Fanu.