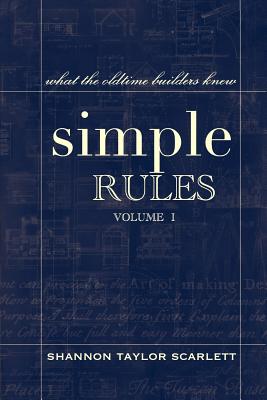 Simple Rules (Paperback)
What the Oldtime Builders Knew
Createspace Independent Publishing Platform, 9781484152072, 126pp.
Publication Date: August 6, 2013
* Individual store prices may vary.
Description
SIMPLE RULESWhat the Oldtime Builders Knewa new kind of builder handbook/ design guidePublisher's Weekly said: "This thoughtful and thought-provoking little gem outlines 25 crucial design principles that the author believes have been jeopardized as domestic architecture has become dominated by developers. Scarlett, who runs an architecture firm in Wellesley, Mass., aims to 'remind those in the building community that simple beauty and meaning... is still reproducible in new homes, and that many traditional building techniques are still applicable in toda.
About the Author
Shannon Scarlett, a registered architect, has worked for over thirty years in the Boston area. Her practice focuses primarily on residential projects, additions, renovations, new house plans... Ms. Scarlett believes it is imperative that architects take a leading role in helping educate the general public--especially those interested in good design, but having no idea where to begin, be it homeowners, builders, or architecture students. It is only a first step, but knowledge itself has great potential for improving the aesthetics, meaning and overall feel of our currently uninspired living environments. On the Simple Rules description page, she posed a question and would love to hear peoples thoughts. "What are your thoughts on the design quality of the average American home?" Her Response: "As the author of Simple Rules, my opinion is already clear. I believe we can do better, but we need the tools to get there. I'd love to hear what other avenues people might suggest we take to improve the suburban experience." Check it out if you are thinking about, or in the process of building a new house; drafting or drawing your own house plans; if you are a carpenter or house plan designer looking for an easy to use builder design guide; or if you simply have an interest in house design or love of architecture.