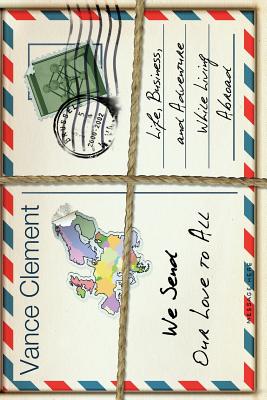 We Send Our Love to All; Life, Business, and Adventure While Living Abroad (Paperback)
Createspace Independent Publishing Platform, 9781484195369, 204pp.
Publication Date: April 24, 2015
* Individual store prices may vary.
Description
Vance Clement and his wife, Sherrill, took a two and a half year European assignment, where he worked out of his company's office in Brussels, Belgium. His weekly update to family and friends turned into a humorous collection of stories that highlight the trials, tribulations, successes, and failures that occur when a family lives and works abroad. It is an upbeat, weekly account of the Clement's attempts to assimilate to the culture of their host country. There are many hysterical business and personal faux pas that will leave you laughing out loud. It is chocked full of over 100 color photos and international travel experiences to the most important business cities and tourist sites of Europe. If you love international travel, have ever thought of working abroad, or dreamed of living in another country, this book will transport you to your destination.
About the Author
Vance Clement was born December 25, 1967 in Little Rock, Arkansas. Vance is the youngest of three boys, decently smart and graduated number 33 in a high school class of 317, one person shy of the top 10% of his high school class. Vance earned a degree in industrial engineering from the University of Arkansas in Fayetteville. He discovered that he was smart enough, but he did not want to calculate the size of the motor required to pump 10,000 gallons of Jell-O through a one-mile pipe. In the summer of 1991, Vance spent 55 days backpacking Europe with a college friend. This backpacking trip widened his view of the world and inspired him to live overseas. Vance began his career with an orthopaedic medical device company based in Memphis, Tennessee in 1992 and was married that same year. In 1996, he received an MBA from Christian Brothers University in Memphis and moved from engineering into marketing. He switched to a bigger and more successful global company in 1998 that eventually resulted in an overseas assignment to Brussels, Belgium in 2000. He became a father in 2011 on Christmas Eve, with the birth of his daughter. Vance continues to work in sales and marketing and was astonishingly inducted into an honorary industrial engineering society, the Arkansas Academy of Industrial Engineers, at his university in 2013. He writes for pleasure and as a creative outlet, he speaks about technology in medicine and about life lessons whenever he is invited and given a free meal. He hopes you will enjoy his musings on living and working in Europe and life in general.