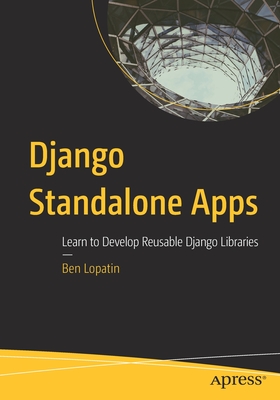 Django Standalone Apps
Learn to Develop Reusable Django Libraries
Paperback

* Individual store prices may vary.
Description
Chapter 1: Defining the Scope of a Django Standalone App
Chapter 2: Structuring Django Standalone Apps
Chapter 3: Testing
Chapter 4: Model Migrations
Chapter 5: Templates
Chapter 6: Using Static Files
Chapter 7: Namespacing in Your App
Chapter 8: Creating a Basic Package
Chapter 9: Scooping and Drawing Boundaries
Chapter 10: Separating Your App
Chapter 11: Adding Your App Back In
Chapter 12: Handling App Settings
Chapter 13: Internationalization
Chapter 14: Managing Version Compatibility
Chapter 15: Mixed Dependency Support
Chapter 16: Modularity
Chapter 17: Better Packaging
Chapter: 18: Licensing
Chapter: 19: Documenting Your Standalone App
Chapter 20: Additional Testing
Chapter 21: Automating
Chapter 22: Databases and other backend specific considerations
Chapter 23: Collaborating
Chapter 24: Using App Templates
Apress, 9781484256312, 169pp.
Publication Date: June 10, 2020
About the Author
Ben is cofounder of a web development consultancy and has been working professionally with Django for almost a decade. He has architected and led development on Django-based web applications including, custom content management systems, media platforms, and multi tenant back office solutions.He lives in the Rochester, NY, area, and graduated from the University of Virginia with a degree in Economics. Previously he managed the data and analytics services for a market research firm and was an IT strategy consultant for a global management consulting firm. His own standalone apps include Django Organizations, a long term project for managing multi user accounts in Django projects.