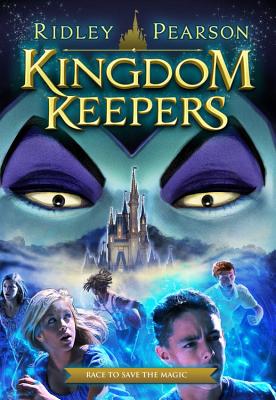 Kingdom Keepers boxed set
Featuring Kingdom Keepers I, II, and III
Paperback

* Individual store prices may vary.
Description
The first three Kingdom Keepers books from award winning author, Ridley Pearson, is now available in a box set with an exclusive Kingdom Keepers Handbook!
In book one, five young teens tapped as models for theme park "guides" find themselves pitted against Disney villains and witches that threaten both the future of Walt Disney World and the stability of the world outside its walls. Using a cutting-edge technology called DHI--which stands for both Disney Host Interactive and Daylight Hologram Imaging--Finn Whitman, an Orlando teen, and four other kids are transformed into hologram projections that guide guests through the park. The new technology turns out, however, to have unexpected effects that are both thrilling and scary. Soon Finn finds himself transported in his DHI form into the Magic Kingdom at night. Is it real? Is he dreaming?In book two, the mystery deepens as Finn is contacted by Wayne, an old man he hasn't heard from in months. Wayne tells Finn that there's trouble at the Animal Kingdom: the evil Overtakers have gained control of one of the computer servers that will be used to operate Daylight Holographic Imaging there. That means that if any of the holographic hosts fall asleep, they will go into comas—permanently. Then in book three, Finn, Philby, Willa, Charlene, and Maybeck search to find Wayne, who has mysteriously gone missing. Concerned that Wayne has been abducted by the Overtakers, the five kids pick up a major clue from their close friend whose dreams (nightmares, really) often accurately predict the future. Clues from a dream lead the kids into Disney's Hollywood Studios and Epcot. Each clue seems tied to the last, and with the stakes growing ever higher, what starts out as a puzzle ends up as a fight for survival.
Read the entire New York Times Best-Selling series!
Kingdom Keepers: Disney After Dark (book 1)
Kingdom Keepers: Disney at Dawn (book 2)
Kingdom Keepers: Disney in Shadow (book3)
Kingdom Keepers: Power Play (book 4)
Kingdom Keepers: Shell Game (book 5)
Kingdom Keepers: Dark Passage (book 6)
Kingdom Keepers: The Insider (book 7)
Disney-Hyperion, 9781484704028, 1296pp.
Publication Date: September 2, 2014
About the Author
Ridley Pearson is the award-winning author of multiple adventure series for (young-ish) readers, including The Kingdom Keepers, Steel Trapp, and with Dave Barry, Peter and the Starcatchers. Ridley is also a best-selling crime novelist of more than 25 titles. Pearson was the first U.S. citizen to be awarded the Raymond Chandler/Fulbright Fellowship in Detective Fiction at Oxford University. In 2013, Ridley was awarded Missouri's Quill Award and inducted into that state's Writers Hall of Fame. As a "full time dad and husband," Ridley, along with his wife, Marcelle, live with their two teenage daughters in St. Louis, MO.



or
Not Currently Available for Direct Purchase