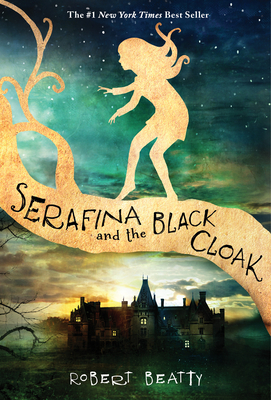 Serafina and the Black Cloak (The Serafina Series Book 1) (Hardcover)
Disney-Hyperion, 9781484709016, 304pp.
Publication Date: July 14, 2015
Other Editions of This Title:
Digital Audiobook (7/13/2015)
Paperback (6/14/2016)
CD-Audio (7/14/2015)
Prebound (6/14/2016)
* Individual store prices may vary.
Description
"Never go into the deep parts of the forest, for there are many dangers there, and they will ensnare your soul."

Serafina has never had a reason to disobey her pa and venture beyond the grounds of the Biltmore estate.There's plenty to explore in her grand home, although she must take care to never be seen. None of the rich folk upstairs know that Serafina exists; she and her pa, the estate's maintenance man, have secretly lived in the basement for as long as Serafina can remember.

But when children at the estate start disappearing, only Serafina knows who the culprit is:a terrifying man in a black cloak who stalks Biltmore's corridors at night. Following her own harrowing escape, Serafina risks everything by joining forces with Braeden Vanderbilt, the young nephew of the Biltmore's owners. Braeden and Serafina must uncover the Man in the Black Cloak's true identity?before all of the children vanish one by one.

Serafina's hunt leads her into the very forest that she has been taught to fear. There she discovers a forgotten legacy of magic, one that is bound to her own identity. In order to save the children of Biltmore, Serafina must seek the answers that will unlock the puzzle of her past.

About the Author
Robert Beatty lives in the mountains of Asheville, North Carolina, with his wife and three daughters. He writes full-time now, but in his past lives he wa sone of the pioneers of cloud computing, the founder/CEO of Plex Systems, the co-founder of Beatty Robotics, and the CTO and chairman of Narrative magazine.
Praise For Serafina and the Black Cloak (The Serafina Series Book 1)…
"Beatty spins an enchanting mystery through lonely Serafina's golden eyes. Each new clue adds another brush stroke to this keenly perceptive portrait of a young girl searching for answers about herself and the world around her. The book leaves readers satisfied with the plot but hungry for more about its unusual heroine. Adults and children will eagerly follow Serafina from the basement into a world of self-discovery, justice, and new friendships."—
Kirkus
"The story drips with suspense, wrapping readers into the narrative just as easily as the man in the black cloak binds his young victims. Serafina's friendship with Braeden is heartfelt and believable... mystery fans will enjoy this book." —
School Library Journal
"The chills and adventure will surely please."—
Booklist
"The vast estate with a haunted past and a creepy present makes for an atmospheric setting, and Serafina's multiple narrow escapes from her enemy are absolutely thrilling. Serafina herself is an enchanting heroine, brave and determined, and her attraction to the dark forest adds another layer of suspense and mystery."—
BCCB
"An entrancing historical, mystery thriller, Beatty tells the story through Serafina's searching and inner dialogue. A finely detailed setting, strong characterization, rich foreshadowing, and haunting imagery, all work to build suspense throughout."—
SLC
"Serafina's quest to understand herself and her unknown family history, along with some truly creepy moments and imagery makes for an eerie historical mystery."—
Publishers Weekly
"Serafina narrates with an engaging voice that draws the reader into her world. The setting is just as engaging: the Biltmore drips with opulence and the surrounding forest with sufficient eeriness Serafina has enough mystery and fantasy (with a fair amount of creepiness) to satisfy young readers."—
Historical Novel SocietyAccolades
2017-2018 Pennsylvania Young Reader's Choice List, selection
Geek Dad: Stack Overflow, 54 Book Recommendations for Middle Schoolers, selection