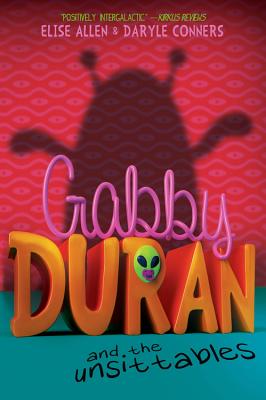 Gabby Duran and the Unsittables (Hardcover)
Disney-Hyperion, 9781484709351, 208pp.
Publication Date: May 12, 2015
* Individual store prices may vary.
or
Not Currently Available for Direct Purchase
Description
Case File: The First Unsittable
Summary: The Association Linking Intergalatics and Earthlings (hereby known as A.L.I.E.N.) has a new member. After months of investigation, Gabby Duran, Associate 4118-25125A, has proven herself to be a babysitter extraordinaire. Her celebrity clients fly her around the country to care for their rambunctious little humans. Our spy, Associate 4118-23432B, otherwise known as Edwina, believes Gabby can be trusted with the truth: aliens are living among humans on Earth. And here at A.L.I.E.N we believe that even extraterrestrials need a babysitter now and then. No one was up to the task until now.
After accepting the top-secret position, Edwina has paired our new associate up with her first charge, a little girl from the planet Flarknartia. The timing for associate 4118-25125A is less than ideal. It's a school day on Planet Earth, Gabby's audition for the solo part in the band is tonight, and this tiny alien is a bit more than meets the eye.
Can Gabby Duran, Associate 4118-25125A, First Sitter to the Unsittables, keep her otherworldly charge safe in the unpredictable halls of middle-school and keep A.L.I.E.N hidden?
About the Author
Emmy-nominated writer and "New York Times" best-selling author Elise Allen made a name for herself with her acclaimed young adult novel "Populazzi," and the Jim Henson's Enchanted Sisters chapter books. She also co-wrote Hilary Duff's best-selling Elixir series and Bella Thorne's new series, Autumn Falls. In television, she has written for talent ranging from Madeline Kahn to Kermit the Frog and is currently writing for the new Disney Junior show "The Lion Guard." Her dog may or may not secretly be from another planet. You can find her online at www.eliseallen.com or on Twitter @EliseLAllen.

Daryle Conners is an award-winning writer, filmmaker, and video game designer. She writes joke and riddle books and has designed many game titles for the PC and iPhone/iPad, including "Harry Potter and the Sorcerer's Stone"; "Scene It? Harry Potter"; "Hot Wheels Slot Car Racers"; and "Scene It? Twilight Saga." Her nonfiction books include "Lunchtime LOLZ"; "Nintendo DS Hot Tips"; "ROFLs"; "Video Game Secrets"; and "Monster High Howlers." Daryle lives in Seattle, where she still babysits from time to time. You can follow her on Twitter @Darylec.
Advertisement