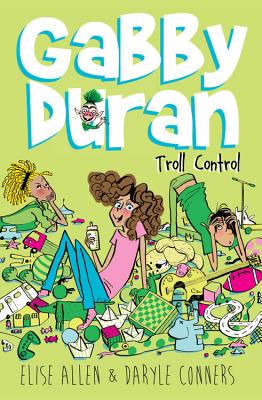 Gabby Duran, Book 2 Gabby Duran: Troll Control (Hardcover)
Troll Control
Disney-Hyperion, 9781484709368, 240pp.
Publication Date: May 17, 2016
Description

Case File: The Second Unsittable Summary: Here at A.L.I.E.N. we believe in strengthening the bonds between humans and intergalactics so that one day all beings can live together on Earth in harmony. That day has not come. But our Associates are working hard to achieve this goal, including Gabby Duran, Associate 4118-25125A, Sitter to the Unsittables. Upon successfully completing her first mission, we have assigned Gabby a more . . . puzzling charge. The relationship between trolls and humans has always been rife with tension, and the troll family Gabby is assigned to is especially prickly. But Gabby is not fazed. Our footage shows Associate 4118-25125A playing, laughing, and snacking with Trymmy, the little troll boy, who seems to be thoroughly enjoying himself. Our liason, Edwina, informed Gabby that trolls love nothing more than a riddle-and stealing items from unsuspecting humans to add to their trove-but Gabby's certain that all this young troll wants is to have fun. However, it might not be as simple as she thinks. After all, there's a reason this particular alien offspring has been labeled "Unsittable.
About the Author
Emmy-nominated writer and New York Times best-selling author Elise Allen made a name for herself with her acclaimed young adult novel Populazzi, and the Jim Henson's Enchanted Sisters chapter books. She also co-wrote Hilary Duff's best-selling Elixir series and Bella Thorne's new series, Autumn Falls. In television, she has written for talent ranging from Madeline Kahn to Kermit the Frog and is currently writing for the new Disney Junior show The Lion Guard. Her dog may or may not secretly be from another planet. You can find her online at www.eliseallen.com or on Twitter @EliseLAllen. Daryle Conners is an award-winning writer, filmmaker, and video game designer. She writes joke and riddle books and has designed many game titles for the PC and iPhone/iPad, including Harry Potter and the Sorcerer's Stone; Scene It? Harry Potter; Hot Wheels Slot Car Racers; and Scene It? Twilight Saga. Her nonfiction books include Lunchtime LOLZ; Nintendo DS Hot Tips; ROFLs; Video Game Secrets; and Monster High Howlers. Daryle lives in Seattle, where she still babysits from time to time. You can follow her on Twitter @Darylec.
Advertisement