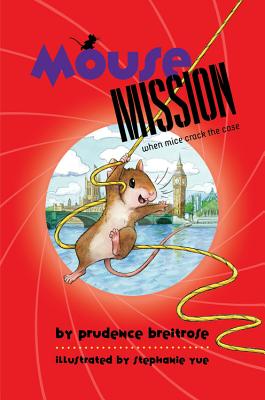 Mouse Mission (A Mousenet Book) (Hardcover)
Disney-Hyperion, 9781484711170, 272pp.
Publication Date: October 6, 2015
* Individual store prices may vary.
Description
IT'S AN UNDERCOVER ADVENTURE!
When a remote island's rain forest is threatened by the greedy timber com pany Loggocorp, the Humans Who Know (that mice have evolved) develop a secret plan to save the forest. And they need all the help they can get from the Big Cheese, Trey, and their other friends in the Mouse Nation.
First, the team must unravel a centuries-old mystery: Who actually owns the rain forest? The mission to find that person brings Megan and her family across the ocean to England, where everything starts to go just a little bit . . . weird. Loggocorp spies are watching the family's every move as they, too, search for the rightful owner of the island's natural treasure.
It's a race against the clock to save the rain forest! The trail leads to a duke's palace full of strange guests and a clan of helpful British mice. And Megan, the most famous human in the world (among mice), has to face her biggest challenge yet.
About the Author
Prudence Breitrose (www.mousenet.org) grew up in the part of England where Winnie the Pooh once roamed, but now she lives in California. Prudence worked as a health education writer until she had a dream that confused computer mice with the real thing. That got her started on her mouse books-first Mousenet and then the sequel, Mousemobile. Stephanie Yue (www.stephanieyue.com) is a transplant from Atlanta, Beijing, and Hong Kong. She studied illustration in New York City, and currently shares a home with a hamster in Providence, RI. When she's not drawing, you may find her zipping around on a scooter, training in martial arts, and pretending to be a superhero.
Praise For Mouse Mission (A Mousenet Book)…
PRAISE FOR MOUSENET
"Breitrose spins an enjoyable tale as she explores the nature of friendship, highlighting the timeless themes of individuality and respect for those who are different, and introduces a good mix of memorable characters and contemporary problems...[her] novel offers mouse lovers action and suspense."
—
School Library JournalPRAISE FOR MOUSEMOBILE
"...this is a fun read that allows one to imagine what it might be like to talk and interact with the little rodents."
—
Library Media Connection
or
Not Currently Available for Direct Purchase