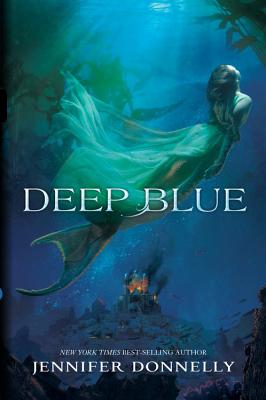 Waterfire Saga, Book One Deep Blue (Waterfire Saga, Book One)
Paperback

* Individual store prices may vary.
Description
Deep in the ocean, in a world not so different from our own, live the merpeople. Their communities are spread throughout the oceans, seas, and freshwaters all over the globe.

When Serafina, a mermaid of the Mediterranean Sea, awakens on the morning of her betrothal, her biggest worry should be winning the love of handsome Prince Mahdi. And yet Sera finds herself haunted by strange dreams that foretell the return of an ancient evil. Her dark premonitions are confirmed when an assassin's arrow poisons Sera's mother. Now, Serafina must embark on a quest to find the assassin's master and prevent a war between the Mer nations. Led only by her shadowy dreams, Sera searches for five other mermaid heroines who are scattered across the six seas. Together, they will form an unbreakable bond of sisterhood and uncover a conspiracy that threatens their world's very existence.
Praise For Waterfire Saga, Book One Deep Blue (Waterfire Saga, Book One)…
"A fantastic addition to the genre of mermaids, this book will also appeal to readers of action and those who appreciate usurped leaders taking back their kingdom. It starts with a common enough concept: a royal girl who is worried about her betrothal and about love. Donnelly then adds layers of complexity to the tale and weaves her story into that of Atlantis. Friendship, trust, and responsibility are major themes as Sera struggles to grasp that she is really her kingdom's only hope. Quick-witted, loveable characters and a well-planned fantasy world make this an all-encompassing book. Readers will eagerly await future volumes and the answers they will provide."—<EM>VOYA</EM>

"A richly imagined novel. Themes of conquering fear and believing in oneself are woven throughout, along with an acknowledgment of humans' environmental impact on the sea and its inhabitants. Despite the high stakes and a few frightening moments, the story is never overserious; it's just right for readers who have grown up with, but aged out of, The Little Mermaid and the Disney Fairies franchise." —<I>Publishers Weekly</I>

"Best-selling Donnelly (Revolution, 2010) builds an alluring mermaid civilization and history, filled with painterly descriptions of Sera's underwater palace and its unearthly architecture, her sumptuous wardrobe, and the menagerie of half-human, half-marine animal denizens. There's also plenty of romantic tension with handsome mermen, strife between merls (that's girl mermaids) from rival regions, and some powerful female friendships amid the fast-paced plot, filled with wondrous magic."—<EM>Booklist</EM>
Disney-Hyperion, 9781484713105, 368pp.
Publication Date: May 5, 2015
About the Author
Jennifer Donnelly is an award-winning author of both adult and young adult books, including Deep Blue and Rogue Wave, the first two books in the Waterfire Saga. For adults she has written a trilogy of best-selling books that includes The Tea Rose, The Winter Rose, and The Wild Rose. Her first young adult novel, A Northern Light, received many accolades, among them the Los Angeles Times Book Prize, a Carnegie Medal in the UK, and a Michael L. Printz Honor. Her second young adult novel, Revolution, was named a Best Book of 2010 by Kirkus Reviews and School Library Journal, and the audiobook received a 2011 American Library Association Odyssey Honor. She lives in New York's Hudson Valley. For more information, visit www.jenniferdonnelly.com.

or
Not Currently Available for Direct Purchase